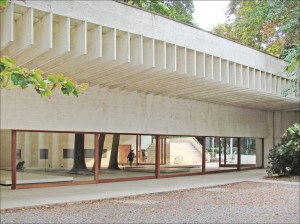 Terike Haapoja and Antti Laitinen have been selected to represent Finland at the 2013 Venice Pavilion, the Frame Foundation, a group created by the Finnish government to promote the nation's art, reports. The exhibition will fill the Aalto and Nordic Pavilions at the biennale next year. Mika Elo, Marko Karo and Harri Laakso will serve as curators on the project.
Here's a bit more about the project, from the organization's release:
"The working title of the curator team's exhibition concept is 'Falling Trees.' As the title suggests, the concept revisits last year's event and explores its inherent unpredictability and destructive force. The falling tree is not seen exclusively as an obstacle that must be cleared away or as the reason for the renovation, but as a rupture in which the framework of rationality yields for a second to make way for something unpredictable. The event opens up a stage for an interplay between art and nature that lies beyond the reach of fixed directions and the objectifying gaze. It is a gesture that leads viewers to consider the relationship between art and nature, and the nature of art. Where does nature end and art begin? What are the forces and incidents that a work of art binds together? What is the contribution of nature to art when it refuses to be translated into landscapes or objects?"
The Nordic Pavilion is currently being rotated among nations from the region. Sweden occupied the building in 2011, and Norway is on tap for 2015. The Aalto Pavilion was built by Finland in 1956 and was recently restored after being damaged when a tree fell on it in last year.
Congratulations to all involved!
A full list of artists representing nations at the Biennale is available here.