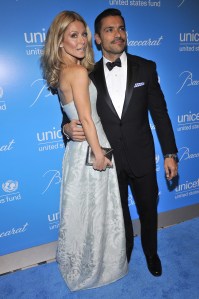 Given that it was our second evening in a row at Cipriani's – albeit at the midtown franchise on this occasion – our usual penchant for the venue had been dampened somewhat, and the inclement weather certainly wasn't helping. But the UNICEF Snowflake Ball managed to turn our well plucked frowns upside down in a glittering evening of philanthropic revelry, with celebrities in a multitude of fields pitching in to lend a hand. The sumptuous menu was designed by revered chefs; the entertainment led by a veritable swing legend, and the auction prizes donated by some of America's hottest talent. It is fair to say that UNICEF, like the bartenders, got the mix just right.
Katy Perry was the evening's surprise A-List attendee, swishing through the foyer's revolving doors in a fishtail dress designed by another of the evening's guests, Naeem Khan. The couturier's wife, jewelry designer Ranjana Khan, recently ventured into reality TV land with several appearances on The Real Housewives of New York and was quick to dispel her involvement with any of the cattiness the show has become famed for.
"Being on RHONY was fun, but I didn't get caught up in the drama," she told The Observer on the red carpet. "My friend Carole [Radziwill] wanted me to be involved with the last season, and she's returning for the next one, so I know she might want me to do something again." Did Mrs. Khan just let an inside secret slip, perchance? Ms. Radziwill is yet to officially confirm her involvement with season six, but you heard it here straight from the jeweler's mouth. The Observer 1, RHONY 0.
Indeed, spilling secrets seemed to be a trend throughout the evening, with Manhattan's favorite crooner Tony Bennett revealing: "Lady Gaga called me last night from Peru. She wants to do an album together and we're going to do it, just me and Gaga. It's going to be a big swinging album with a big hot band." Well, perhaps it wasn't quite the juicy nugget we initially imagined, given that Mr. Bennett has been quoted as saying that the "Poker Face" singer called him the previous night from New Zealand with the idea for a collaborative record. That quote happened three months ago.
Given that Mr. Bennett is at the ripe old age of 86 and still put on a glorious show – some of which was without a microphone – we'll forgive this little slip. But please be more careful next time, Tony, when toying with our Gaga-fueled emotions.
From genuine secrets to recycled ones, there was one couple on the red carpet who weren't attempting to hide a thing – step forward Kelly Ripa and Mark Consuelos. The fruity pair didn't miss a beat when volunteering to talk about their ahem, romantic interludes, with Ms. Ripa divulging: "We have an Indonesian holiday themed bedroom, and a bed from Bali. Which may or may not have broken once." Quick, somebody call Poirot, we've got a cryptic case of too much information on our hands.
After the duo's domino effect of smut polluted The Observer's innocent mind, we went in search of some good clean fun at our table, where we dined with the chefs who put the menu together. Best-selling author and UNICEF ambassador of 12 years Marcus Samuelsson had drafted in help from fellow restaurateurs Michael Anthony and Marc Murphy, who co-created a meal trumped in deliciousness only by their company. As they wined and dined us with a feast of truffle lobster salad and Wagyu steak, the flavors of the food were perfectly enhanced by the Wynton Marsalis Quintet, whose jazzy tunes rose to the very top of Cipriani's lofty ceilings.
Just edging out the edibles in terms of success was the auction, which contributed to the event's staggering $2.5m raised for the very deserving charity. A backstage pass with Selena Gomez, who was decked out in a floor length Dolce & Gabbana number for the event, scooped two high bids of $20,000 apiece, contributing to the money raised by other high bidders on lots for Lady Gaga tickets and a day on the Knicks' court as player Tyson Chandler's personal guest. The guests were not left wanting when it came to an eclectic mix of goods, and spunky auctioneer Courtney Booth of Sotheby's coaxed the cash from the crowd's pockets with ease.
There was just time to honor Harry Belafonte before the evening came to a close, and he undoubtedly made a deserving recipient of the Audrey Hepburn Humanitarian Award for his commitment to the charity over the past quarter of a decade. With the audience on their feet as he took to the stage, the emotion in the room was palpable.
It was clear that UNICEF was close to the hearts of all of the evening's attendees, including Uma Thurman and Téa Leoni, and as we slunk out of Cipriani's once more, the prospect of returning didn't seem quite such an imposition.