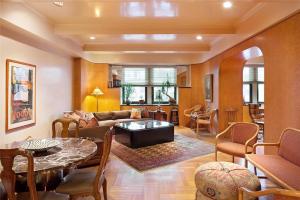 The King of the Co-op Castle has sold his own co-op castle at 290 West End Avenue. Former real estate mogul Aaron Ziegelman, who recently fell on hard times, has just offloaded his classic seven for $2.5 million, according to city records.
This summer, Mr. Ziegelman made headlines with a plea for cash that he sent to his philanthropy and real estate circles, as well as the parents of children at Camp JRF, one of the Jewish beneficiaries of his long-ago largesse.
"I'm faced with creditors who are trying to take away my home," the letter read, according to The New York Times. "I need your financial help to save my home and to clean up the mess so I can start making a living."
The plea came as a surprise to those who remembered Mr. Ziegelman as someone who made a mint in the 1980s by converting apartments into 120 rental buildings into co-ops and condos and once zipped around the city in a chauffeur-driven Jaguar. But Mr. Ziegelman, who went into hard-money lending after apartment conversions, claimed that he was a victim of the financial crisis (some of his former investors accused him of running a Ponzi scheme).
Did the creditors close in?
We called Mr. Ziegelman, whose new address is listed on the deed as the Regency at 45 West 60th Street, to see if the sale had anything to do with his financial situation. (It's been listed since November 2011 with Douglas Elliman broker Ed Hardesty.)
But Mr. Ziegelman, despite the earlier plea, was not eager to talk.
"No, I'm not discussing my personal situation," he told us.
Mr. Ziegelman and wife Majorie have spent decades in the three-bedroom, three-bath home with "exquisite Birdseye maple paneling"—the listing brags that it's the first time in a long time anyone has had a shot at the Ziegelman's 16th-floor spread. After a few price reductions, the unit was most recently asking $2.8 million.
Buyers Darius and Lara Mehraban will enjoy not only the chance to move into the rarely vacated space, but views of the Hudson River, West End Avenue and the Ansonia—a view fit, in other words, for a king (of the co-op castle).
kvelsey@observer.com