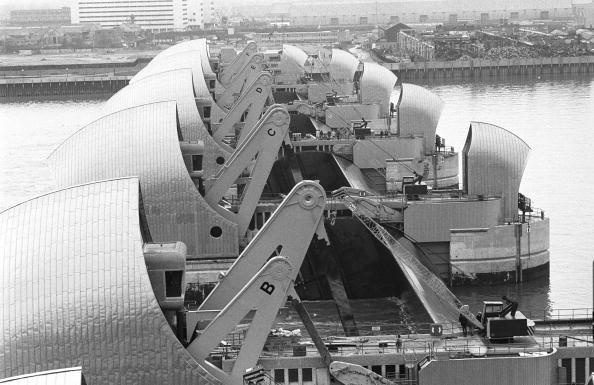 It's starting to seem like Mayor Bloomberg is the only one who doesn't think storm barriers are a worthwhile investment. Not only do Governor Cuomo, MTA chief Joe Lhota and both Jerry Nadler and Chuck Schumer think it's a good idea, but so do 80 percent of New York City voters, according to a new Quinnipiac poll out today.
They were asked, specifically, if it was worth spending billions—no exact amount, or source of funds beyond the federal and state governments was given—on new waterfront infrastructure. Only 14 percent thought it was not worth the cost. Support was even higher when the pollsters asked if the cost was justified it if the storm protections could "reduce the cost of disruption and restoration." Then, 88 percent supported the new infrastructure, compared to 6 percent who did not support.
But the whole "worth it" debate is at the heart of the issue. Mayor Bloomberg has said time and again he does not believe sufficient protections could be built, at least at a cost making such efforts worth it. One person who believes this will happen anyway, because of American political vagaries, good and ill, is Times architecture critic Michael Kimmelman.
Hurricane Sandy was a toll paid for procrastination. The good news? We don't need to send a bunch of Nobel laureates into the desert now, hoping they come up with some new gizmo to save the planet. Solutions are at hand. Money shouldn't be a problem either, considering the hundreds of billions of dollars, and more lives, another Sandy or two will cost.

So the problem is not technological or, from a long-term cost-benefit perspective, financial.

Rather it is the existential challenge to the messy democracy we've devised. The hardest part of what lies ahead won't be deciding whether to construct Eiffel Tower-size sea walls across the Verrazano Narrows and Hell Gate, or overhauling the city's sewage and storm water system, which spews toxic waste into rivers whenever a couple of inches of rain fall because the sea levels have already risen so much. These are monumental tasks.

But more difficult still will be staring down the pain, dislocation and inequity that promise to upend lives, undo communities and shake assumptions about city life and society. More than requiring the untangling of colossal red tape, saving New York and the whole region for the centuries ahead will become a test of civic unity.
So while Mr. Kimmelman agrees with the majority that big infrastructure must be built, he also agrees with the mayor, that so, too, must smart construction—or no construction. "At this point there's no logic, politics and sentiment aside, to FEMA simply rebuilding single-family homes on barrier islands like the Rockaways, where they shouldn't have been built in the first place, and like bowling pins will tumble again after the next hurricane strikes."
Still, tell that to all the people whose lives have been upended by the storm. It will be like swallowing a bitter pill after be socked in the stomach.