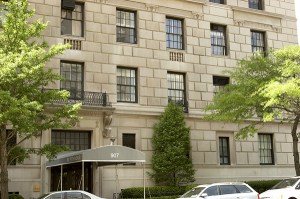 Looking to wow the board of 907 Fifth Avenue? A high-paying job in finance seems to be just the ticket.
The board has accepted Frederick Iseman's $22.5 million bid to buy the park-facing eighth-floor apartment that belonged to late copper heiress Huguette Clark—one of the three in the building. Mr. Iseman made the bid in mid-summer, after the board reportedly blocked Qatari Prime Minister Sheikh Hamad bin Jassim bin Jaber Al Thani's move to snap up both of Clark's eighth-floor apartments to create one the largest floor-throughs on Fifth Avenue.
The deal, sources have told The Observer, will give Mr. Iseman not only the entirety of apartment 8W, which was asking $19 million, but also a piece of 8E. It's unclear what will become of the remainder of 8E, which one broker deemed the more charming of the two spaces, even if it lacks a park view. Apartment 8E, listed with Brown Harris Stevens brokers Mary Rutherfurd and Leslie Coleman for $12 million, has been off the market for several months.
Will the new 8E, minus the chunk annexed by Mr. Iseman, return to the market? After all the dust has settled, we expect it will. It was Clark's most modest holding in the building, but it was no shrinking violet. The 12-room apartment boasted a 47-foot-long windowed gallery opening up onto a 29-foot corner living room, a library, a reception room and a formal dining room (plus two palatial bedrooms).
Maybe the breather isn't necessarily a bad thing? It will take at least one season of summer work hours (and quite possibly more) before Boaz Weinstein—who bought Clark's 12th-floor penthouse for $25.5 million this July—or Mr. Iseman move into their new apartments, but the building might feel out of balance if all three of Clark's old apartments were suddenly occupied.
After all, the apartments sat empty and echoing for years but for Clark's enormous doll collection after the eccentric heiress took up residence at a hospital for the treatment of a mysterious, and likely imaginary, illness.
A few more million for Clark's heirs to squabble over. Clark's estate, estimated to be worth some $400 million, is being administered by the New York County public administrator. Her relatives (she had no children) have already filed a lawsuit to reclaim some of the $44 million in gifts that Clark gave her extensive entourage of lawyers, doctors and nurses in the decades before she died. In the wise of words of Biggie Smalls, mo' money, mo' problems.
kvelsey@observer.com