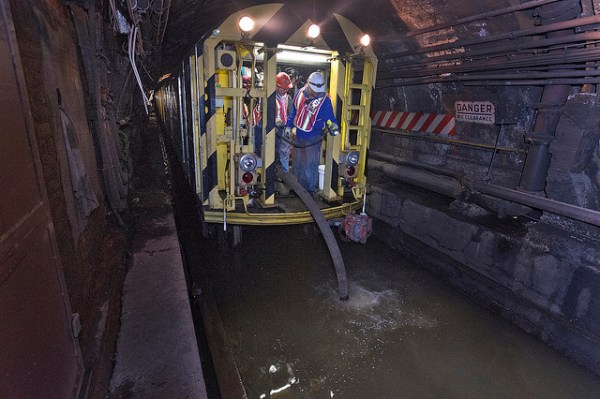 Update, 11/6 11:42 a.m.: The MTA just announced that the L-train tube under 14th Street has been pumped out and "damage is currently being assessed."
Original post: Since we have become your defacto North Brooklyn subway depot—just take a look at the Popular Stories box right now—here is the latest from those skinny-pants filled lines. According to the MTA's evening service advisory, the Newtown Creek tunnel on the G-train has been pumped out while pumping work remains for the L.
As we previously reported, no tunnel saw more flooding than the L, which is among the reasons the MTA left it until the end of its recovery operations to pump out, because the more water, the longer it takes. Among the reasons the 4/5/6 and 2/3 were up and running so quickly is they needed minimal pumping. They also carry more people, making them, arguably a greater priority. Just don't tell that to the people living in North Brooklyn.
Meanwhile, the G-train may be clear of water, but signals still need to be repaired from what rushed in, which was salt water, remember, and thus more severe. Once repaired, the signals need to be tested. It does not appear that there will be G service tomorrow morning as a result, but the MTA has surprised us before, so keep those fingers cross.
In the meantime, remember, the B43 gets you pretty darn close to the bridge into Queens, and thus the No. 7 train to Midtown, so don't get stuck relying on the B62 to get you to work tomorrow. The MTA did say it will be running extra B62 buses to compensate for the absent subway service, as well.
The agency also reiterated the importance of getting these lines up and running again. "The top subway priority is now restoring service on the G and L trains through northwest Brooklyn, where alternate service on the J and M trains was extremely crowded," the statement read.
Meanwhile, service has expanded on the A/C lines, with the A-train running once again to 207th Street in Inwood, the last stop on the line. The C-train will start running to 168th Street in Harlem once again as a result. The B-line will also begin running, from Bedford Park in the Bronx all the way down to Kings Highway in Brooklyn, though neither that or the Q yet reaches Coney Island, which was hard-hit by the storm.
The MTA is also trying to figure out how to increase 1-train service through signal adjustments in order to allow for more riders on the West Side, where there was considerable crowding on the Seventh Avenue line during this morning's commute.