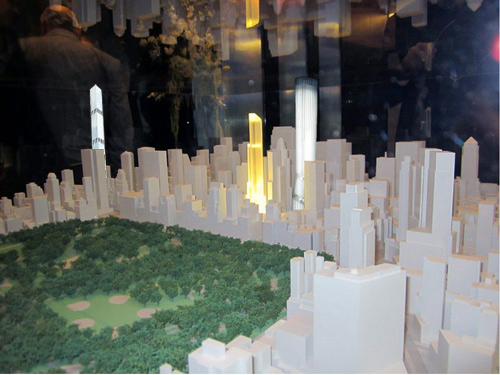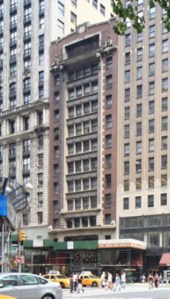 If King Kong were to swing into New York sometime this decade, he might actually have a hard time figuring out where to go.
In the original 1933 black-and-white classic, King Kong famously scales the two-year-old Empire State Building, cementing it in the conscience of the world as arguably its most famous skyscraper. Four decades later, the giant gorilla set his sights higher, standing astride the Twin Towers of the World Trade Center. Today, perhaps he might climb atop their succesor, the new 1 World Trade Center. But one gets the sense that King Kong is given to gigantism, so only the city's tallest tower will do.
Until a few months ago, that would have been 1 World Trade. But since 432 Park Avenue began to rise skyward in April, the 1,397-foot condo tower developed by Harry Macklowe and CIM on the old Drake Hotel site would have claimed the skyline crown. It beats out its downtown rival by 29 feet, so long as one ignores the silly 400-foot sorta spire atop 1 World Trade. Should King Kong arrive sometime in 2014, this slinky tower would probably be his choice.
But a year or two after that, and he might turn his gaze further down 57th Street, past the already striking 1,005-foot One57 tower, Gary Barnett's billionaire bauble nearing completion despite that crane accident. There it would settle on another tower being developed by Mr. Barnett, at 225 West 57th Street, just one block from what was already going to be the city's tallest apartment building when it opens next year. The new tower's height, according to building permits filed last week: 1,550 feet. 
That would make it the world's sixth tallest building—at least until something else comes along and knocks it off its pedestal.
That is a good 50 percent taller than either the Chrysler Building or One57, while all three are about the same size, between 1.2 and 1.4 million square feet. The tower will be slender, but it will also be solid unlike some of its spindly rivals, notably 432 Park and predecessors like the Trump World Tower. (Amazing how that held the record for tallest apartment building for a decade, surpassed by only a few feet by Frank Gehry's Spruce Street tower, and now, it's just off to the races, especially when the 1,050-foot MoMA tower is added into the mix. And never mind all the super-tall office towers on the horizon, like the 1,300-footer at Hudson Yards and all those maybe-taller towers coming out of the Midtown East rezoning.)
The tower will reach 88 stories, which sounds like a lot, but when the overall height is considered, that belies exceedingly high ceilings. At the same time, much extra space will also likely be devoted to mechanical systems to keep such a colossus running, as well as the fact that the first five floors, as construction documents show, will be given over to a Nordstrom, as was announced in July. On the seventh through 12th floors, there will be a hotel, and then, boom, 223 residential units. That is almost twice as many units as One57, though the hotel is also considerably larger there.
"I don't want to confirm anything except to say we've filed permits," Mr. Barnett told The Observer Monday by phone, when asked if the project had financing and was set to rise.
As noted by the eager architecture savants on Skyscraper City and Wired New York, who first noticed the building permits yesterday, construction equipment is already on hand at 217 West 57th Street, one of the lots Mr. Barnett controls and will be building on some day. Similarly, the Morton Williams grocery story at 225 West 57th Street closed last month, paving the way for demolition of that building and its replacement to rise.
This is one of Mr. Barnett's most complicated deals ever, requiring the assemblage of numerous parcels of land and air rights from surrounding buildings and properties, including tax lot mergers and air rights purchases, essentially turning the entire block into a piece of the project, even if some of the buildings thereon will remain standing. "We've been at this seven or eight years," Mr. Barnett said. "We've bought different parcels and air rights, etc, etc, and here we are." Building documents show no fewer than nine different parcels tied up in creating the lot.