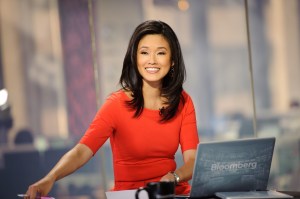 It was the morning after the presidential election on the set of Bloomberg Television's In the Loop, and Leo Hindery Jr., a partner at InterMedia Partners and a sometime adviser to Democratic officials, was pumping his arms in an off-air shimmy.
"Ohio, baby," he said, naming the point in the previous night's returns when he'd begun to celebrate. Then the cameras rolled, host Betty Liu repeated the question, and the private equity investor stifled a smile.
Mr. Hindery's giddiness aside, there was reason to believe that Ms. Liu's Wednesday morning show would be gloomy. During the run-up to the election, much had been made of Wall Street's support for Mitt Romney and its antipathy toward President Barack Obama, the turncoat who banked the financial sector's support in 2008, then chided banker "fat cats." And so Off the Record arrived at Bloomberg's Lexington Avenue headquarters to take in the news outlet's weekday morning television show, looking to gauge the Wall Street's morning-after mood. (Disclosure: this reporter was an intern at Bloomberg News during the summer of 2011 and the winter of 2012.)
If we were looking for pathos, OTR didn't find it. Harvey Golub, the former chairman of AIG and an ardent Romney supporter, was looking particularly dejected, but Ms. Liu didn't linger on it. She asked former Morgan Stanley CEO John Mack whom his first post-election telephone call would have been to were he still running the investment bank, and who he liked as the next secretary of the treasury. She dialed up Pimco CEO Mohamed El-Erian from a remote location and asked him what he thought Federal Reserve Chairman Ben Bernanke was thinking. She asked everyone, including former Fed Chairman Alan Greenspan (remotely) and Loop capital CEO Jim Reynolds (in studio), about the fiscal cliff.
"We knew early on the story wasn't going to be who won, but what they would do after," Ms. Liu told OTR. "So we tried to pivot right away to the 60 days after."
Along with a gift for equanimity and a sunny disposition—when OTR asked Ms. Liu about the recent hubbub over a Bloomberg TV marketing campaign that falsely stated she'd been nominated for a Pulitzer Prize, she replied, "I didn't find it embarrassing at all"—the In the Loop anchor has the résumé of a serious financial journalist.
She started her career as a Hong Kong reporter for the Dow Jones Newswire in the aftermath of the British handover and earned a quick promotion to chief of Dow Jones's five-person Taiwan bureau at the age of 23. After five years at The Financial Times's Atlanta bureau and a year off after the birth of twin boys, she took to live TV, first as an Asia correspondent for CNBC and, for the last five years, as an anchor at Bloomberg.
At Bloomberg TV, Ms. Liu has a reputation as a CEO-whisperer. She's one of the few journalists Warren Buffett will speak to and is well-trusted by master-of-the-universe types. "I was just having lunch with Jim Chanos at Michael's," she told OTR, name-checking the Kynikos Associates hedge fund manager perhaps best known for shorting Enron's stock. "He was joking, 'Everyone who's making deals is in the back room, everyone who wants to interview the people making deals is in the front, waiting for the deal-makers to come out." Where did Ms. Liu and Mr. Chanos dine? "We were in the back. I was trying to make a deal to interview him!"
Indeed, Ms. Liu's comfortable relationship with executives was apparent on Wednesday's show, as guests treated the set as a clubhouse of sorts. Mr. Hindery teased Mr. Mack about the election results—"You used to be a good North Carolina Democrat"—and Mr. Reynolds seemed to have a deal he wanted to pitch to just about everybody.
Even sad-faced Mr. Golub, now the chairman of boutique investment bank Miller Buckfire, was in a chatty mood. "I like to do Betty's show because I have no idea what her politics are," he told OTR.
And so Ms. Liu and her guests, live and remote, shared their views on U.S. debt, the future of the Republican party, the president's next moves, and yes, whether the nation would avoid the fiscal cliff.
"It's going to be bumpy," Ms. Liu told OTR. "But I think they'll get something done."
As Mr. Golub left the set, he mentioned he was getting ready to jet to Florida to escape the coming nor'easter. Ms. Liu, likewise, was in the process of helping Wall Street move on. "You don't make money talking about the past," she said. "You make money talking about what's going to happen in the future." —Patrick Clark