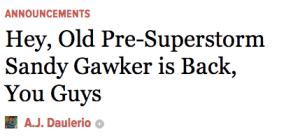 Gawker Media sites returned to their regularly scheduled format last night after the websites posted on a new, spare looking tumblrs while the servers struggled to get up and running after they were flooded.
"Hey, Old Pre-Superstorm Sandy Gawker is Back, You Guys," Gawker EIC A.J. Daulerio posted last night. The tumblr had its fans, however. Mostly fans of the way things used to be, pre-Gawker redesign, post-invention of the Internet-weblog. And those fans will be inevitably disappointed that the site is back to normal. 
Oh well, it will take some time until all the tumblr posts are moved over onto Gawker sites. And, like all hurricane-related recovery, don't expect it to be a smooth process.
"So we're back. Kind of," wrote Mr. Daulerio. "There will be some other kinks obviously (ALWAYS) but let's just all pretend that tomorrow and the rest of the week will be somewhat back to normal for this site."
But stop complaining, commenters. Count your blessings. There are lots of people actually impacted by this storm. You know what, how about helping the recovery effort instead of reading blogs?
"We're still in better shape than most people and everyone who reads this site should devote some time this week to helping the Rockaways and Staten Island recover," Mr. Daulerio wrote. "Seriously. Do something."
Actually, there is no reason you can't waste time on the Internet and volunteer. There sure are a lot of hours in the day now that we are back in our offices.