"Did you know that only seven percent of auctioneers are women?" Liza DiNapoli asked us as she slid open a case and brought out a giant Fred Leighton ruby ring. Surrounding the inlay jewel was a blinding number of diamonds, with enough carats to feed a whole stable of luxury rabbits.
The auction director of Fortuna Auction House was explaining the difference between the type of presentation that she would be giving on November 29th, when her firm would be holding their annual Fall 'Fine Jewels' bidding war, and the type given by "farm auctioneers."
"They're the ones who talk very fast, the men who are literally 'selling the farm,'" she said, before launching into an impression. "Fivehundredthousanddoseeeighthundredthousand… Eighthundredthousandbidderdoihaveabidder? No? SOLD!" We were impressed.
"Sometimes I wish they would let me do my British accent during the sales," She sighed, before morphing into an uncanny Eliza Doolittle.
"Aye, governor! Buy 'me jewelry, 'ai?"

We nodded, scared that if we moved too much the ring would fall off and shatter, creating a life-long debt to the auction house that we would have to pay off in indentured servitude. We parted with the ruby, reluctantly.  We couldn't linger on any one item: the Wednesday night preview at furrier Helen Yarmak's showroom in the Crown Building had more precious jewelry for us to terrify ourselves with before the rest of the world could peak at them.
While Patricia Fields flipped through the lines of sable coats in Ms. Yarmak's small studio, others crowded around the piece d'resistance: an obscenely large, 29.56 pear shape "fancy brown yellow" diamond ring that rotated in display box all by itself in the middle of the room.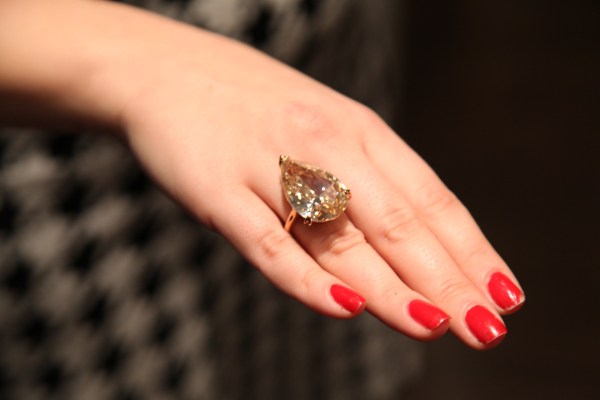 "I wish I could say this piece had a fascinating history…that it belonged to some sort of queen or royalty," said Seth Holehouse, Fortuna's co-founder and managing director. "But honestly, we don't know that much about it." The bidding for this particular item would begin at $460,000, he said, a pretty reasonable price, we were assured.
"You want to start the estimates low, and that way when people bid up, it always looks like we managed to beat everyone's expectations, instead of setting them," he confided.
Everywhere we looked was gold, rubies, sapphires, and diamonds, diamonds, diamonds. Van Cleef & Arpels, Cartier, Mauboussin, Tiffany & Co., and David Webb all made appearance in wearable form, as well as several items from Ms. Yarmak's personal collection. Michele Gerber Klein, Elena Moussa, Mickey Boardman, Cass Almendral, and R. Couri Hay mingled among the champagne and baubles, occasionally trying on an especially transfixing piece before circling its corresponding number in the catalog.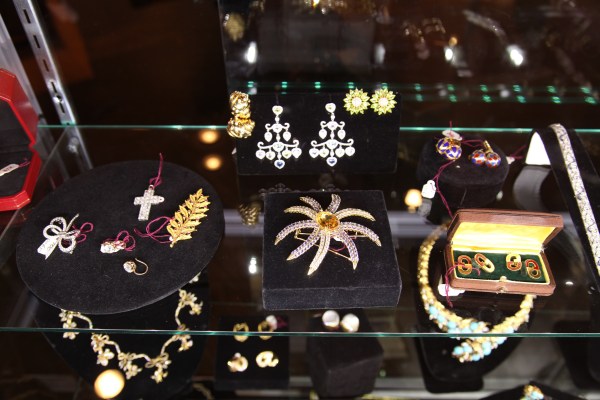 Eventually we found ourselves next to a tall Russian woman as she tried on a large snake bracelet. She turned to us: "Tsss! Tssssst!" She said, pretending to strike us with her gold serpent. "Tssst tssst!"
We looked duly surprised.
"I love these types of toys…but I already have three at home," she shrugged, handing it back to the small man behind the counter. Next to her, a  socialite and her friend weighed the pros and cons of a particular brooch.
"Look, it's either this, or he takes me to St. Tropez." she said. "Again."
"I think the brooch would just mean more to me," she finally decided.
"And it will probably last longer," Her friend added helpfully.
There might not be a price tag on memories, but as we learned that evening, they could certainly be put on consignment.