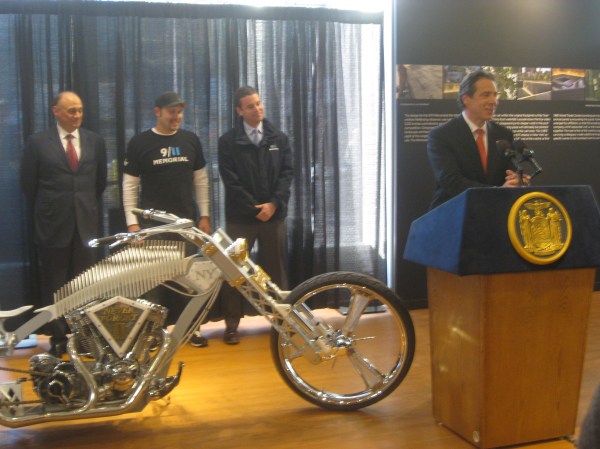 The press cameras started clicking when the chug of the motorcycle became louder and louder, nearing the room's front entrance. Paul Teutul Jr., the mustachioed and baseball-hatted owner of biker merchandise company Paul Jr. Designs, revved and wobbled his motorcycle through the door up to the speech podium on the first floor of 90 West Street, a dowdy Financial District building not far from the Battery.
Mr. Teutul was soon joined by Governor Andrew Cuomo, World Trade Center contractor Dan Tishman and 9/11 Memorial president Joe Daniels. They all praised the return of the bike to its place in the 9/11 Memorial Visitor Center, which had come under four feet of water one month ago during Hurricane Sandy and had been the chopper's home since October of last year.
The motorcycle, which includes gold plating and parts modeled after the design of the new World Trader Center buildings, was completely submerged except for a tiny piece of its handlebars. To repair the damage done by the saltwater, Teutul took the bike back to his workshop upstate, from where it made its triumphant return today.
"In many ways this is to me a metaphor for exactly what we're doing right now," the governor said. "The 9/11 site was badly damaged by Hurricane Sandy. I saw the water filling the site from every direction imaginable." He said that New Yorkers recovered and "We come back better than before. This bike is just a perfect symbol and metaphor for that."
Though a motorcycle is perhaps an odd recovery symbol for a city where the majority of residents don't own a car, the best way to get to the southern tip of Manhattan until recently may still have been by motorcycle, as PATH trains began running again this morning and some subway stations around Battery Park remain closed. Also, it may be an especially fitting symbol for the governor, as he is an avowed gearhead.
Apart from using an outlaw-style motorcycle as a visualization for the rebuilding of downtown, Mr. Cuomo spent time praising the bike's artistry to the audience, which was an odd mix of men in suits, men in motorcycle hoodies and press. He repeated that he is a "motorcycle aficionado," saying that he rode on Thanksgiving because he rides even in the cold.
The governor, who some progressives may associate with the churlish and rogue stereotype of bikers for his refusal to voice definitive support for a Democratic majority in the State Senate, did not straddle the motorcycle, to the disappointment of pretty much everybody. Mr. Cuomo's lack of staged motorcycle photos differentiates him from his fellow New York pol, Mayor Michael Bloomberg, who probably has a smaller collection of refurbished bikes.