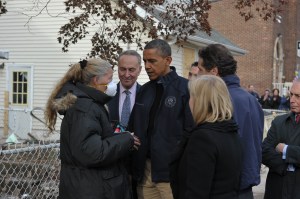 President Obama's trip to Staten Island today was filled with thanks from local elected officials and residents who praised him for showing up and for the government's response to Hurricane Sandy. However, there were also signs some Staten Islanders were dissatisfied with the aid they've received since the storm.
The president concluded his visit on Cedar Grove Avenue, which was heavily damaged by the hurricane. Several homes on the stretch of the block he visited were destroyed and marked with red signs indicating they were "unsafe" for entry. The sidewalks were caked with deep mud and, across from the podium where the president and other elected officials made speeches, the wreckage of a boat sat where it had washed up in the grass.
As the motorcade made its way to the speech site, we saw one resident holding a sign that said, "Thanks USA." A young girl wearing pink fleece "Hello Kitty" pants who stood in a group of people the president spoke with also had a sign, albeit one that expressed more complicated sentiments. It was a piece of cardboard that said "Help Us Obama Please Now!" on one side and "USA God Bless America" on the other.
Politicker was unable to hear what the president said to the group, but, whatever feelings they may have had about the government's response to the devastating storm, his words brought several rounds of cheers, as they did earlier in the day when he greeted residents at disaster relief tents near Miller Army Air Field. But, along with the applause, the afternoon event had something else in common with the president's appearance at the tents–the first and only resident we were able to speak with expressed dissatisfaction with some of the help they have received since the storm.
At the tents, a man named Al Bevacqua said "it seems like FEMA can't do anything without the insurance companies," which he accused of putting him and other Staten Islanders "on hold." On Cedar Grove Avenue, just before the president spoke to the group we talked to a woman named Stacy Chifando who said she had suffered serious consequences from the storm and was disappointed with the help she subsequently received from FEMA.
"We just really want to get back on our feet and FEMA's not doing too much to help us right now," said Ms. Chifando.
She went on to explain that many of the residents had not received the funds for temporary housing they hoped to obtain from FEMA.
"They tell us we need computers, but there's no power. We don't have computers," she said.
Ms. Chifando told us the first floor of her home on nearby Sea Foam Street was "wiped out," her car was "totaled" and she still was without power or heat.
"But I have a house to return to and everybody's safe, so I really can't complain too much. People around here lost everything," Ms. Chifando said.
In the speech he made after speaking with the residents, President Obama praised local officials and government agencies for their response to the storm, but he also acknowledged there is still work to be done to repair the communities hardest hit by the hurricane.
"We are now still in the process of recovery. As you can see, as you travel around parts of Staten Island, as we flew over parts of–other parts of the city and the region that had been impacted, there is still a lot of cleanup to do. People still need emergency help. They still need heat. They still need power. They still need food. They still need shelter. Kids are still trying to figure out where they're going to school," the president said. "So there's a lot of short-term, immediate stuff that has to be dealt with. And we are going to make sure that we stay here as long as people need that immediate help. That's FEMA's primary task. And we'll be coordinating closely with state and local governments to make sure folks are getting the short-term help."
To aid with this long-term recovery effort, President Obama promised he would "be coming back in the future  to make sure that we have followed through on that commitment." He also named HUD Secretary Shaun Donovan to serve as his "point person" on the rebuilding process.
"We thought it'd be good to have a New Yorker who's going to be the point person, and so. our outstanding HUD Secretary Shaun Donovan, who used to be the head of the New York Housing Authortiy, so he knows a little bit about New York and building, is going to be our point person," said President Obama.
Mayor Michael Bloomberg and Governor Andrew Cuomo, who spoke prior to the president, were unambiguous in their praise for the government's response to Hurricane Sandy, which Mr. Cuomo described as an "unprecedented federal presence and effort" in a powerful speech where he expressed  complete confidence New York will recover from the storm.
"Seventeen days ago, on October 29, everything changed for New York. Sixty New Yorkers lost their lives, tens of thousands saw their homes damaged or destroyed," said Governor Cuomo. "We must re-knit the fabric of tattered communities, we must rethink and redesign for the long term, because extreme weather, as we have learned, is the new normal. But we are New Yorkers, Mr. President, we are tough and we are resilient and we will overcome and we will be the better for it."
After the speeches, President Obama parted ways with the local officials.
"Alright guys, hang in there," he said.
Before departing in his motorcade, the president walked over to another group of locals for a final round of handshakes, photos and hugs.
"Hey everybody. Let me shake hands with some folks," he said. "How's it going everybody?"
At that point, we were ushered back into the press vans and were unable to hear their answers.