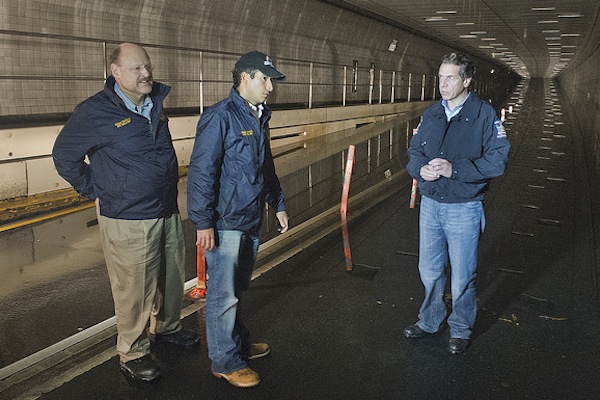 New York has a history of governors who were master builders, Rockefeller, Smith, Carey, Pataki and both Roosevelts among them. Add Andrew Cuomo to that list. While Mayor Bloomberg has so far refused to consider building new infrastructure to help protect New York City from future natural disasters, Gov. Cuomo strongly declared last night that it is his intention to do so.
"I think we have to look at the bigger things," he said at a press briefing yesterday evening. The Observer had asked if he was leaning toward small fixes, like new MTA vents to keep out rainwater, or more grandiose plans, like building locks and storm gates in the harbor (a practice that is popular in Europe). The governor clearly fell into the latter camp, and much of the reason seems to be because he fears this is only the beginning of problems from these natural disasters. After all, he has spent his first two years in office cleaning up after two hurricanes.
"I do not believe these extreme weather patterns are going to end; I do not believe, anymore, that this is once in a lifetime, once in a hundred years, once in a generation or just a fluke," the governor said. "It's happening more and more, with more and more frequency. This is just statistics and probability. You look at the number of devastating floods, the number of devastating fires, the number of extreme weather patterns is going up. That is a fact. That is a fact."
He said you can debate the causes, whether this is a natural cycle or a man-made crisis, but whatever the reason, there will still be freak storms, there will be flooding, there will be new disasters, and something must be done to protect against them. "I'm a governor, I'm an executive, I manage," Gov. Cuomo said. "The effect is the same. The water comes over the bank and fills the subway tunnel. That's the effect; I believe it's going to happen more and more in the future. I don't believe this is the last time."
"These are very expensive, disruptive problems when they happen, and they can be devastating," he added. Therefore, better infrastructure "would be a big solution." Better to pay the price for protection than for rebuilding everything that has been washed away.
When asked what kinds of investments he might make, and whether he could afford to pay for them, since earlier in the press briefing he had mentioned how tight budgets could constrain reconstruction in the region, the governor responded with what may or may not have been a joke.
Gov. Cuomo said he would pay for these projects, but he could not get into it now "because I want the MTA to fund the entire situation. It's going to be multi-billions of dollars and I don't want to tell them that now, because they've been working very hard, they're a little bit cranky, and I'll tell them after they sleep a little bit."