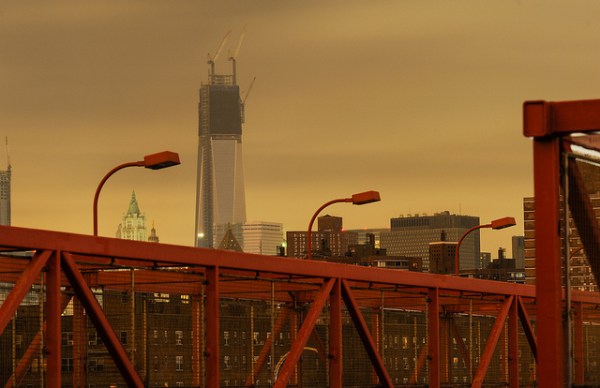 After the Hudson flooded into the World Trade Center during Hurricane Sandy, it was remarkable that the site had been pumped out and work had resumed within days rather than weeks. Now, construction has recommenced in earnest, as some 750 construction workers returned to the site to finish the work of building 1 World Trade Center, the Vehicle Screening Center, the PATH station and other pieces of the 16-acre site.
Governor Cuomo announced the return of workers earlier today, as well as the fact that 95 percent of the World Trade Center site was now dry. Damage to the site, and the storms impact to the construction time table, is still being assessed. The resumption of work means cranes are in operation yet again on the site.
The hardest hit part of the site was the subterranean 9/11 Museum, located beneath the Memorial plaza. Some 16 million gallons had filled the structure, rising some 7 feet across the site. It took a team from the Port Authority, private contractors and the Army Corps of Engineers pumping non-stop for almost a week to get all the water out.
On Saturday, standing at the m0uth of the still-flooded Hugh Carey Brooklyn Battery Tunnel, Governor Cuomo spoke dramatically of watching the rivers meet and flood into the World Trade Center site.
"The World Trade Center site was frightening," Cuomo said. "At the cresting of the tide on Monday night, the Hudson River was basically pouring into the World Trade Center site."
"The World Trade Center site had 28 feet of water in the bottom," Cuomo said.
Now there is almost none, yet the latest sign that life is getting back to normal after the craziest week in at least a decade.
Somehow no matter what happens in this town, the World Trade Center always has a way of being at the center of it.