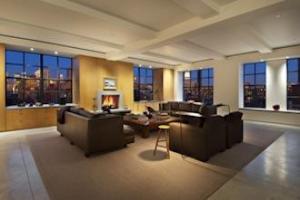 Who knew that locating a buyer for a $16 million loft conversion in Chelsea would be as hard as finding the Ark of the Covenant? Indiana Jones, a.k.a. Harrison Ford, has certainly had a lot of trouble pinning down buyers for his four-bedroom, 4.5-bath spread at 206 West 17th Street.
The actor first listed his 5,664-square-foot condo for $16 million back in December 2010. Now, some two years later, Mr. Ford is finally in contract, according to the Olshan Luxury Market report. Certainly, it's not the longest time a property has lingered on the market. But let's face it, this place was not moving at the speed of light, or even the speed of a competently-wielded light saber.
It's hard to say for sure, but we'd pin this place's sluggish performance on price. Mr. Ford purchased his bachelor pad for $5.3 million back in 2002 and gave it a sleek makeover. Sure, it helped him woo Calista Flockhart, but did the renovation really justify asking triple the price?  If we were a Hollywood producer negotiating this contract, we'd have taken a hard stand against lavishing that much cash, even on a marquee name. After all, the penthouse's 1101 Architects look may add value, but can it really triple the box office?
Corcoran listing brokers Deborah Grubman and David Dubin seem to think so. They gush that not only does the place come with a huge terrace, four exposures and a private elevator, but that there is "amazing custom craftsmanship" that has wrought industrial touches like "poured concrete radiant heated floors." So authentic for a Chelsea loft! And to think that the fabulously wealthy once put their craftsmen to work doing intricate things with wood and plaster.
Mr. Ford never wavered on price, so it will be interesting to see what this deal closes at. One thing is for certain, however: living here will cost a whole lot more than $16 million. The monthly common charges and taxes on the apartment ate $15,269. And as Donna Olshan points out, that doesn't buy any amenities but a video intercom system.
kvelsey@observer.com