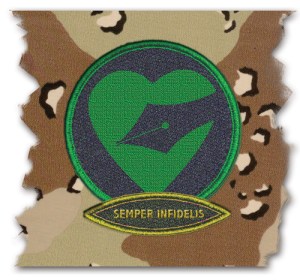 In beguiling Gen. David Petraeus, biographer Paula Broadwell joins a select group of ambitious female scribes who have run away—literally—with their subjects.
Ms. Broadwell seduced the exercise-mad general in Afghanistan when she proved she could match his six-minute miles. She sealed the deal with a finished piece of hagiography called—no snickering now—All In, which she then went on to flog in evening dresses that revealed biceps to rival Michelle Obama's.
Ms. Broadwell is in hiding now, but she's in good company.
Female scribes may be at a disadvantage when it comes to good assignments and pay, but they enjoy certain benefits vis-à-vis male egomaniacs.

Both male and female reporters carry basic tools in their bag of tricks, including the ability to flatter, cajole, wheedle and bully a subject into answering questions.
But the most effective tool of the female journalist is often her ability to disarm. There's that delicate, shell-like ear, tuned to him alone. Women are used to kvetching about this and that to their girlfriends. But Great Men have no one to confide in besides their spouses, and when a female reporter turns up with a recorder, while he may have the self-control not to reveal company secrets, the novelty of being listened to by a new woman is often an intoxicant.
If power is an aphrodisiac, the power reflected back to the Great Man through the dictation-taking pen of the female journalist is de facto doubly arousing. A wise Lois Lane knows that with certain subjects, the well-turned stiletto can add a frisson that brings forth the most provocative quotes. The same cannot be said for male journalists covering women, because most American women leaders take an oath of asexuality in order to survive.
Most of the time, though, Great Men aren't all that interested in actually bedding grubby ink-stained wretches. It takes a particularly bold, adventurous and hot Brenda Starr to throw the subject of an interview under the desk for a shag—an act the general alluded to in emails to Broadwell.
Overachieving soldier-scholar Broadwell isn't even a career journalist. She doesn't hail from the same mousy and supposedly objective ranks as the rest of us, but that's only because she could actually do it all. She grew up in North Dakota, was high school valedictorian, student council president, homecoming queen and an all-state basketball player, graduated from the U.S. Military Academy at West Point with multiple honors, and has held positions in the U.S. intelligence community, U.S. Special Operations Command and FBI Joint Terrorism Task Forces.
A buxom G.I. Jane, done up for recent television appearances in ruffled and silky sleeveless dresses, Ms. Broadwell apparently went way off the rez with anonymous emails to a third woman, Jill Kelley of Florida, who has insisted she is merely a friend, and not another Petraeus paramour.
The general must have known he was dealing with a loose cannon when Ms. Broadwell posted pictures of him with Angelina Jolie in his office on her Facebook page—before the pictures had been made public, which they might never have been, since Ms. Jolie was clearly in a part of the Langley building off limits to civilians.
Initial reports claimed Ms. Broadwell broke up with Mr. Petraeus when he became CIA director a year ago, but others suggest that the two actually started their affair after he was sworn in. Whatever the details, a woman who could match him in pushups and chin-ups must have seemed like his athletic soulmate, even the love of his life.
Those in-depth interviews conducted on endurance runs in Afghanistan, were "the foundation of our relationship," Ms. Broadwell told Jon Stewart in a publicity appearance on The Daily Show before the scandal broke. She had taken the lead in promoting the book she co-wrote with Washington Post editor Vernon Loeb (a real ink-stained wretch who has been, so far, conspicuously silent on the activities of his co-author.)
It can't be easy to be a Great Man confronted with a sexy hagiographer with glowing penmanship and a dab of perfume.
There are many such tales and some of them end well. The happily-ever-after standard was set by Suzy Wetlaufer, who was editor of the Harvard Business Review when she profiled Jack Welch, then CEO of GE, whose business wisdom was doled out in a best-selling book lapped up by middle-manager wannabes in airport bookstores across the land.
At the time, Lisa DePaulo wrote in New York magazine that good things almost instantly came to life when these two overachievers crossed paths. Ms. Wetlaufer was then "a vivacious 42-year-old Harvard M.B.A., Baker Scholar, novelist, mother of four, and Sunday-school teacher—with a penchant for Prada and Chanel and fabulous shoes," Ms. DePaulo wrote.
Ms. Wetlaufer had interviewed most of the nation's top CEOs, and getting picked up in a corporate jet was all in a day's work for her. But the 66-year-old Mr. Welch's charms knocked her off her objective game.
Weeks after the fateful interview, Mr. Welch asked if he could spend the holidays with Ms. Wetlaufer and her four kids. She happily agreed to have the private jet deliver him to her Yuletide hearth.
Mr. Welch's wife of 13 years, Jane, a lawyer who had ditched her career for the Great Man, angrily confronted Ms. Wetlaufer on the phone. The Harvard Business Review was soon without an editor, and Ms. Wetlaufer and Mr. Welch are, as far as is known, living in connubial bliss to this day.
The benchmark for disaster in the sexy Boswell game was set by videographer Rielle Hunter, who signed onto John Edwards's campaign, allegedly to document the Great Man in action. The action, of course, continued after the director yelled cut. Ms. Rielle ended up not just sacking Mr. Edwards's career, but getting him a federal indictment for illegal campaign contributions, conspiracy and making false statements in connection with a cover-up of his affair.
From the other side of the Atlantic, in lands un-encumbered with American Puritanism and J-school objectivity training, the seductive female scribe swaggers through public life, often trailing wrecked high-profile marriages.
Young Anna Wintour, in her salad days as a newspaper editor in swinging '70s London, once disappeared with Bob Marley for a week, according to biographer Jerry Oppenheimer. Mr. Oppenheimer wrote that Island Records founder Chris Blackwell introduced the fashionista to Mr. Marley and got her a backstage pass to one of Mr. Marley's shows in New York. She immediately "fell for" the sexy Rastamon. She was "riveted" and acted as if she'd "met God," Mr. Oppenheimer quoted one friend as saying. While the story is impossible to confirm, Ms. Wintour has never explicitly denied that headboard notch.
The greatest female journalist-seducers prowl deeper in the euro zone, in, bien sûr, Paris, the setting for the romance of Anne Sinclair and Dominique Strauss-Kahn. Ms. Sinclair was an accomplished and beautiful national television journalist when she met the dashing Socialist leader and twice-married (at the time, still-married) DSK in 1989. His advisers had sent him to meet with her not to be interviewed but so that he might pick up some media politesse. According to a report in Time, DSK "fell for her immediately, calling her several times a day." They kept the affair secret for a while, but married in 1991.
France's current first lady is former Paris Match journalist Valérie Trierweiler, a Brenda Starr lookalike down to the trench coat and cascading auburn cheveux, who first met socialist François Hollande when she was in her 20s and he was a leather-jacket-wearing, open-married lover of Ségolène Royal, the mother of his four children. By 2005, they were having a secret affair. She now sleeps in the Elysée Palace.
Along the way, her very French exploits have included reports that Mr. Hollande shared her with a Sarkozy government minister while all three were still in other relationships—in a fabulous ménage à six. This year, Ms. Trierweiler engaged in a notorious Twitter catfight with Ms. Royal during the French campaign season.
The French, of course, expect women to be catfighting over Great Men. But no self-respecting French woman over there would have sicced the authorities on an rival, as Ms. Kelley is said to have done after Ms. Broadwell's threatening emails, kicking off the scandal that accomplished what neither Al Qaeda in Iraq nor the Taliban could engineer.
editorial@observer.com