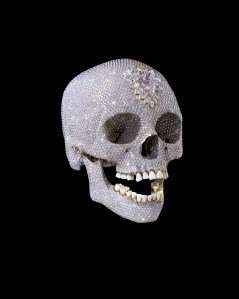 This month's issue of The Believer is devoted to art, and features an interview with Joe Bradley, a poem by Hennessy Youngman and a barnburner of an essay by Rachel Cohen called "Gold, Golden, Gilded, Glittering" that charts the connection between innovations in art and banking over the past seven centuries or so.
It's a beautiful piece, and free on the magazine's website. Among the many wonderful moments in the article is Ms. Cohen's succinct explanation of how Damien Hirst's $100 million skull, For the Love of God (2007), operates on the same logic as the finance industry over the past decade:
"Mortgage-backed securities are created by assembling thousands of particles of debt—pieces of debt owned by homeowners in Peoria and by southern African governments at war over the diamond trade—and then packaging these together and selling them. Before the crisis, the banks claimed to their investors that it didn't much matter whether there was anything solid underpinning the value of these vehicles. It was the picture—made by a financier at a computer, out of thin air, between one moment and the next—that made the value. Like the men of Wall Street, Damien Hirst is a creator of astronomical value, seemingly out of nothing. The diamonds on the Hirst skull were reportedly worth $23.6 million—the rest of the work's value was created, overnight, in the assemblage. For the Love of God applies the technique of a leveraged buyout not only to a work of art but as a work of art."
Ms. Cohen is at work on a book about Bernard Berenson that is due out next fall.