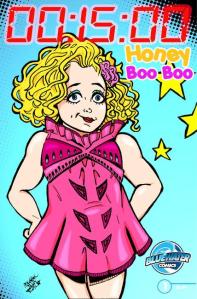 There is probably not a human being on this earth who believes that Honey Boo Boo is being given a healthy amount of attention with her TV show and constant face-slapping, president-endorsing appearances on the late-night circuit. We know, deep in our bones, or hearts, or whatever, that the blonde pageant star has another 6½ minutes left–at most–on the Andy Warhol clock. But is it really necessary to make a whole comic book about her upcoming irrelevance?
Bluewater Productions, the graphic novel version of TMZ.com, which has brought you stories on politicians, princes and Kardashians, thinks so. But even it is having a hard time defending its position.

From the 15 Minutes: Honey Boo Boo website (where you can now pre-order the comic):
You better redneckomitize! Bluewater Productions continues it's examination of the under belly of FAME in the second installment of their new "15 Minutes" biography comics line that focuses on the stars of reality television. Alana Mitchell better known to the world at large as pint sized pageant queen "Honey Boo Boo. Join writer/artist Michael Troy as we uncover Honey Boo Boo's rise to FAME from her breakout appearance's on Toddlers and Tiara's to landing her very own reality series. Discover why self-named Honey Boo Boo has garnered the attention, if not the hearts from Anderson Cooper to The White House.
Okay, so it's a history of Honey Boo Boo and her rise to fame? Fine. We mean, how many pages could this subject possibly fill, even in illustrated form?
But already, Bluewater's publisher is defending his recent product as sort of a preemptive strike against anyone offended by the comic, which makes us think that besides putting a countdown timer next to her name, this book has other dirty tricks up its sleeve.
First, a message from the author:
"Andy Warhol's quote about 15 minutes of fame is one of my favorites, and as a pop culture junkie, I jumped at the chance to put my spin on spoon-fed America's latest reality obsession, Honey Boo Boo," said writer/artist Michael Troy.
And then the head honcho:
"Clearly this one was meant to be fun for people and not to educate society," said publisher Darren G. Davis. "There are some of these biographies we do for strictly the entertainment value."
Ooooh. Okay? Thank you for the clarification that your comic book about Honey friggin' Boo Boo is not meant as some larger critique or thesis about our culture's celebrity obsession.