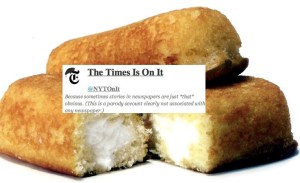 Friday night, former MTV VJ Dave Holmes posted a story on his Tumblr to mourn the liquidation of Hostess Brand Inc. Although we now know that Twinkies will probably survive after the dissolution of parent company Hostess (as well as the upcoming apocalypse), you have to remember that on Friday, we were all uncertain about the fate of our favorite artificial-ingredient-based cake product.
Mr. Holmes's little vignette was about his friend/fellow air jockey Jancee Dunn, who in 2001 was trying to pitch her first story to The New York Times Style section. And while we've always assumed that most trend pieces are born more out of temerity than truth, apparently they are sometimes also created from a throwaway comment your friend makes about Twinkies before your pitch meeting.

From Mr. Holmes' Tumblr:
One afternoon long ago, I was walking down 1st Avenue with my friend Jancee, who was getting ready for her first interview with one of the editors of the New York Times SundayStyles section. She went over some story ideas she wanted to pitch the guy, we discussed them, we stopped at a bodega to get some water, I picked up a 2-pack of Twinkies on a whim, and we split them. It had been years since I'd eaten one, and we agreed it tasted like childhood. "I want to have a party and serve only Twinkies," I said (apparently). We parted ways.

At the interview, she pitched her best story idea. The guy wasn't into it. Then another. No sale. Another. Pass. In a panic, she blurted, "My friend is going to have a Twinkie party," and- on the spot- improvised a trend piece about comfort food at swell parties.

Later that day, Jancee called. "Remember the Twinkie party you were going to have?" I did not. "Well, could you have it? Could it be next Friday? And would you mind if I came with a photographer?"

And thus was born Jancee's first byline in the New York Times SundayStyles section. Read it here.

I have not eaten a Twinkie or appeared in the Times since.
The article in question is from 2001–"NOTICED; Yesterday's Junk Food Is Today's Party Food." It begins:
WHEN David Holmes, an MTV video jockey, recently learned that his roommate was moving to Europe, he sought inspiration for a going-away party. In Aisle 5 of Key Food, it struck him with the force of a produce sprayer: he would glorify the American treats so scarce, and so reviled, on the other side of the Atlantic.

How better to send off a good friend than with Twinkie the Kid? he reasoned (…)

Lately, at myriad gatherings around the city, refined partygoers are increasingly being tempted to forsake smoked salmon and caviar for Hostess, the Colonel or Popeyes, as comfort food — remember when it was called junk food — fills buffet tables. Guests confronted by the foods of their youth may scornfully hesitate, but when they grow hungry — or tipsy — enough, it's "The Day of the Locust."
To her credit, Ms. Dunn was able to find two other people to prove her point … one of whom happened to be a pre-Bon Appetit Adam Rapoport, who was serving up White Castle at a loft party while still editing GQ.
Just more evidence that most trends are made, not found, by the writers who report them … something to keep in mind the next time you see a story about all those trendsetters hoarding Twinkies to sell on eBay.