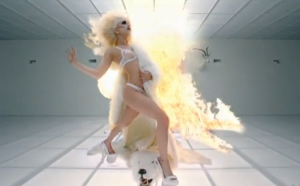 Hurricane Sandy has apparently brought together a pair of borough presidents who previously clashed over pop sensation Lady Gaga. The last time we saw Staten Island Borough President James Molinaro and Manhattan Borough President Scott Stringer mentioned in the same breath, they had a tiff over Mr. Molinaro's claim that Ms. Gaga was "a slut." Now, they have teamed up for post-Sandy relief work in Staten Island.
In later September, Mr. Molinaro went off on Ms. Gaga after she smoked marijuana on stage in Amsterdam. At an anti-drug event a few days later, Mr. Molinaro had harsh words for the singer, declaring, "To me, she's not an actress, she is a slut, in the pure, in the pure meaning of the word."
Manhattan Borough President Scott Stringer, who is friendly with Ms. Gaga's family took offense, however, and rushed to defend the singer's honor.
"Lady Gaga's work is a symbol of individuality and artistic expression. In addition to her artistic pursuits, she is a social justice activist and a real leader for marriage equality in this country," he told us. "And no matter which continent Gaga happens to be in today, she remains an Upper West Sider at heart."
Mr. Stringer, a potential candidate for mayor in 2013, was rewarded with a tweet from the star herself, praising his political integrity in front of her millions of followers.
However, in the wake of the hurricane, Mr. Molinaro and Mr. Stringer have apparently made peace. Today,  Politicker spotted a photo of the two borough presidents working together to deliver a few hundred blankets Mr. Stringer obtained from a private donor to Staten Islanders left in the cold by Hurricane Sandy. It looks like time–and storms, heals all wounds.