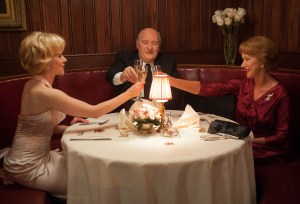 There are many reasons why Alfred Hitchcock is the most famous and instantly recognizable film director of all time, and all of them are reliably, artistically realized in Hitchcock. With so much year-end junk polluting the market, it's easy to see why this is one of the best movies of 2012. With rich performances, a riveting and articulate screenplay, meticulous direction and enough grounded emotional intensity to keep your pulse pounding, Hitchcock grabs you by the lapels like a suspense classic by Hitch himself—a knockout from start to finish.
This is turning into a Hitchcock year. In the recent, hugely disappointing HBO special The Girl, the Master of Thrills came off as a pompous, cruel, sex-obsessed and egomaniacal bully who inflicted physical and emotional pain on everyone around him during the filming of The Birds—especially his frosty blond star, Tippi Hedren. In the vastly superior and much more carefully researched Hitchcock, the action centers on the making of Psycho—his 47th feature andthe most controversial and successful film of his career—and the personal, professional and financial obstacles he faced to get it made at all. With blazing performances by Anthony Hopkins—who is no stranger to the dark side of human behavior—as the conflicted director, and the great Helen Mirren as his long-suffering, patient but quietly powerful wife Alma Reville, the creative faces of the complex man are neatly balanced with the driving forces of his private marriage and personal obsessions. The frustrations began as early as the 1959 Chicago premiere of North by Northwest, where one reporter stung him to the core asking "You're the most famous director in the world, but you're 60 years old—don't you think you should quit while you're ahead?" That was the flint that ignited the flame that led to Psycho.
Looking for something more shocking than anything he had ever attempted before, the Icon of Angst came across a novel by Robert Bloch called Psycho that was nasty, brutal, violent, fiendish and an assault on the senses—entirely original. Everyone objected, from agent Lew Wasserman and studio executive Barney Balaban, who opposed him every step of the way, to Alma herself. Paramount refused to finance it; the director used his own money, giving the studio only the distribution rights. He mortgaged his house. He bought up every copy of the book on the market so that nobody would know the ending. He hired an unproven scriptwriter named Joseph Stefano to pen the screenplay because he had problems with his own mother, like Norman Bates. He perversely chose lanky, all-American Tony Perkins (here in a sensitive, subtle performance by James D'Arcy) over hundreds of applicants with more of an edge to play Norman, the fictional mama's-boy psycho, because of Perkins' own real-life duplicity in hiding the fact that he was gay. It was Hitchcock's biggest career gamble, and six decades later, the money is still rolling in. Psycho is the horror flick hundreds of others have imitated, none with anything close to the same terrifying flair.
The first half of the Hitchcock is concerned with the myriad details of how Hitch got this movie off the ground, and it overflows with the kind of gossip and information that give hardcore film buffs delirium tremens. Anthony Hopkins laces Hitch's brittle sarcasm with droll asides destined to keep you entertained. The director, on first introductions: "You may call me Hitch—hold the cock!" Hitch on leading man John Gavin: "Good-looking chap—but plywood is more expressive." To the Paramount production chief who warns the studio is not required to release Psycho if it turns out to be embarrassing, Hitch bitingly retorts:"Unlike the last five Martin and Lewis films you're so proud of?" He made the cast and crew swear not to divulge any of the film's secrets. He kept scenes from the actors so they would react with horror, controlled the editing, the cutting of Bernard Herrmann's music, and the personal lives of the participants behind the camera, and went so far as to write a manual addressed to theater managers and marketing directors that propelled the picture into a headline-making sensation. Based on an exhaustively researched book by Stephen Rebello, the movie never runs out of surprises. One is the way in which screenwriter John J. McLaughlin and director Sacha Gervasi introduce Ed Gein (Michael Wincott), the twisted 1950s Wisconsin grave robber and serial killer who inspired the characters of both Norman Bates in Psycho and Hannibal Lecter in Silence of the Lambs. Then there's the director's relationships with his leading ladies. There was always a blonde around on every Hitchcock set to pick on. They were all victims, but they all came back for more (except Doris Day, who still considers The Man Who Knew Too Much one of the unhappiest experiences of her career). On Psycho, there were two. Hostility toward Vera Miles (Jessica Biel) began with her decision to drop out of Vertigo at the last minute to have a baby. Hitchcock was also enraged by her resistance to his sexual advances and his domineering, control-freak directing style. Meanwhile, Janet Leigh (wonderfully, amusingly played by Scarlett Johansson), happily married to Tony Curtis, was a total professional, and too adored by everyone on the set to antagonize. The shower scene brought more insight into Hitchcock's demented visions.
Director Gervasi cleverly blends the shooting of a difficult film with insights into the director's unconventional marriage and habits after hours: midnight raids on the fridge, ice cream binges, his jealousy of everyone Alma knew, and his dependence on her help, opinion and approval, even though he never applauds anyone but himself. Alma kept a low profile, riding him about his weight, even counting the calories in his cocktails, and from the iron fist Helen Mirren uses to play her, it's clear who always got the last word. Alma was the wife-mother-scriptwriter-editor-companion he never made a move without for 54 years of marriage. She put up with his flirtations, betrayals and sarcasm, but she knew the definition of long-term commitment better than any wife in Hollywood. She was the wind beneath his wings, and Helen Mirren plays her with a centrifugal force that is hypnotic. She and Anthony Hopkins are perfect bookends. When his egomania explodes, she uses her own brand of spit and paste to put the ceramics back together again. Some critics have groused that Hitchcock lapses occasionally into sentimentality and melodrama, but I can find evidence of neither. As a rare peek through the keyhole at some of the screen's most durable legends, it's a high-water mark in the annals of wit, charm and entertainment value.
rreed@observer.com
HITCHCOCK
Running Time 98 minutes
Written by John J. McLaughlin
(screenplay) and Stephen Rebello (book)
Directed by Sacha Gervasi
Starring Anthony Hopkins, Helen Mirren
and Scarlett Johansson