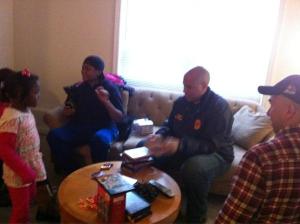 Newark Mayor Cory Booker opened his home yesterday to over a dozen of his neighbors who were left without power by Hurricane Sandy. Alice Bell, who took refuge after the storm at the mayor's house, talked to Politicker this morning and described the slumber party-like scene inside Mr. Booker's home and what it meant to the people who stayed there.
"It meant–I can't even explain," she said, her voice cracking with emotion. "I mean, we were–I'm still overwhelmed that he would reach out to us like that, you know, that we meant that much that he actually invited the whole block."
Ms. Bell said some residents of the neighborhood, Upper Clinton Hill, are without power, heat and water while others, like Mr. Booker, who live on different parts of the power grid are not. She has spoken to the utility company and they said they expect services to be restored tomorrow.
"His house is directly in back of mine," Ms. Bell explained. "That street, Hawthorne Avenue, that whole street has lights. We don't."
Because of the situation, Mr. Booker invited residents of one of the affected blocks, Homestead Park, into his home. He reached out to them on Twitter.
"His house is like three stories, so he opened up the whole floor to us," Ms. Bell said. "We had a kitchen, bathroom. We had the whole first floor."
Ms. Bell and others also went around the neighborhood making sure people knew they were welcome at the mayor's home.
"I went around knocking doors and said the mayor offered … Everybody, they were shocked, like, 'Really, he said I could come?' So, we felt kind of special."
Because of the mayor's invite, Ms. Bell said people have been coming in and out of his house "constantly."
"I haven't been over there this morning, but yesterday, it was a steady flow of people there in and out, people just stopping by to charge phones and, you know, get something to eat, warm up a little bit," said Ms. Bell. "They've been back and forth constantly."
Mr. Booker has also stopped by to bring supplies.
"He brought us DVDs, he's bringing in food … he came by brought us popcorn and then brought us trick-or-treat candy. He's been back and forth checking on us and calling … You know, 'There's beds, get in the beds, bring your covers.' Everybody wanted to camp out that's what we were doing and, you know, we slept over last night," Ms. Bell said.
Along with popcorn, the menu at Mr. Booker's house consisted of chicken, fish, macaroni and cheese, potato salad, corn bread and candied yams from King's Family Restaurant. According to Ms. Bell, "we ate good." The DVD selection focused on movies for the mayor's younger house guests.
"There were kids, so everything was age appropriate. We watched Spiderman, we watched Kung Fu Panda, Happy Feet," Ms. Bell said. "And he brought–the kids had Play-Doh, and coloring books and stuff–supplies. We kept each other entertained, trying to keep each other's spirits up."
Though Ms. Bell said Mr. Booker allowed his guests to sleep at his house, she's not sure the mayor got any rest himself.
"He's still out running about, doing his thing, picking up prescriptions for medication for people, delivering Pampers, and he's in and out constantly," she said. "He came in for maybe–I don't know if he slept or not. He was in and out."
We reached out to Mr. Booker to ask why he decided to open his home and if he managed to get any rest. As of this writing, we haven't received a response.
For her part, Ms. Bell said she wasn't surprised by the mayor's generosity. Since being elected in 2006, Mr. Booker has earned a reputation as a "supermayor" for taking to Twitter to personally help Newark residents with their problems and an incident last April where he rushed into a burning building to save a woman from a fire.
"I'm not too surprised, you know, he's–I wouldn't expect anything less from him,  you know, that's just him," Ms. Bell said. "I wasn't surprised. The same way when people ask me about how surprised I was that he ran into the building behind that lady. I wasn't surprised."
Ms. Bell left Mr. Booker's house this morning to check on her pets, but she said she and others plan on returning again today.
"In fact, I'm getting ready to go back over there to take a shower right now," said Ms. Bell.