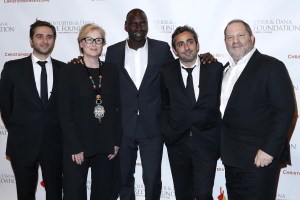 As we walked out of Cipriani 55 on Wednesday, we were overwhelmed with confusion. What had just happened? Smiling, we headed for a cab, trying to piece together some sort of cohesion.
"We are getting people out of wheelchairs and walking," I recalled  Matthew Reeve saying at the beginning of the evening, poised on the red carpet of the Christopher and Dana Reeve Foundation annual Magical Evening. 'That involves fundraising."
"Its a wonderful chance to celebrate what the organization has accomplished and remind everyone what needs to be done, whilst remembering my father and step mother's legacy."
With the evening's noble purpose clearly set in our minds, we were ushered to our tables.
Good Morning America anchors Josh Elliot, Sam Champion and Lara Spencer kicked off the proceedings with a champagne toast. The taste of bubbly fresh on our lips, the presentation of the Christopher Reeve Spirit and Courage award soon followed.  We were inspired by James Dasavano's struggle to reverse his mother's paralysis, a fete he accomplished with the help of his family and the foundation. Tears almost came to our eyes when we saw his mother walk beside him to the podium.
A little break in the ceremonies gave us time to gather our emotions and tuck into the starter and eyebrow-raising pop performance by Jason Derulo. "I suffered a broken neck when performing a routine back flip tuck preparing for my tour this year. When I heard that they reached out to me I said, 'absolutely.' I had to move a couple things around but I felt like nothing else was more important than this,"  Mr. Derulo told us, honored to participate in the evening.
After dinner we headed over to have a chat with masochistic magician David Blaine. When we got nearer we realized that he was eating glass to the audience of Meryl Streep and Harvey Weinstein. The night was careening into chaos. After Ms. Streep ran away in disgust we asked Mr. Blaine how he came to be involved in the organization.
"Want to see a trick?" he asked.
Please no, not the glass. Mercifully he pulled out a pack of cards and proceeded to perform a whirlwind of card tricks. "You can't tell anyone about these tricks because they are going to go in my new show," he said as he pulled a folded four of spades from underneath my watch.
We suddenly heard Ms. Streep at the podium, poised beside Mr. Weinstein, the two having escaped Mr. Blaine to present an award to Olivier Nakache and Éric Toledano, the directors of the French box office hit The Intouchables. Ms. Streep almost gave the dagger shaped award to the producer Mr. Weinstein.
"Do I give to you now … between the eyes?"
Do it Meryl. She didn't and after a slightly unbelievable story about how he and Johnny Depp were the reason the handicap access bill was passed in the Senate, Mr. Weinstein handed off the award. Omar Sy, the lead in The Intouchables, gave an extremely moving speech which was soon followed by some more pop mayhem in the form of Mr. Derulo's girlfriend Jordin Sparks. Earlier she had told us that "anytime I can be at a place where people are trying to make a difference or trying to change things I feel super. Christopher Reeve and Dana Reeve are Superman and Superwomen so that is quite fitting."
Her songs following us, The Observer headed for the door. Before we could exit, however, we were stopped by a camera crew for yet another Jersey reality show as they filmed what appeared to be two very tiny orange people. At that point nothing could surprise us.