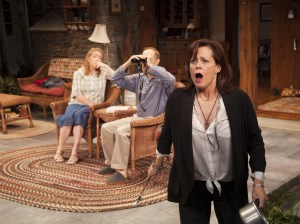 I never thought Anton Chekhov was even mildly amusing. To me, his writing epitomizes what the Gershwins wrote in the lyrics to "But Not For Me": "With love to lead the way, I've found more skies of gray, than any Russian play … could guarantee." I just didn't know about Christopher Durang.
Vanya and Sonia and Masha and Spike, his new comedy at the Mitzi E. Newhouse Theater in Lincoln Center, is chock-full of Chekhov characters, who have relocated to Bucks County, disguised as contemporary neurotics, and all brought together at the endangered family estate—located, I assume, near the rustic getaway Moss Hart made famous in George Washington Slept Here. Replete with exposed wooden beams open to the sky, old-fashioned hooked rugs and wicker, it's a gorgeous stone house that reeks of country chic. Uncle Vanya (a stoic, grumpy David Hyde Pierce, who looks like a disagreeable baby with colic) waddles out in his nightshirt to argue with his adopted sister Sonia (marvelous, cow-eyed Kristine Nielsen) about the quality of the coffee. Instead of the seagull, she wants to know if he's spotted any sign of the blue heron. (No seagulls in Bucks Country, I guess.) They've lived together in sour disarray ever since their parents succumbed to Alzheimer's and died. Now they are invaded by the arrival of their fabulously successful movie-star sister Masha—air kissing, superficial as Auntie Mame's foot-long cigarette holder, reaching out but never quite touching, and one hilarious composite of nervous tics and pretentious materialism. "If everyone took antidepressants, Chekhov would have had nothing to write about," declares Sonia while she agonizes over what's left of the family cherry orchard. It's been their cross to bear that their eccentric parents named them all after Chekhov characters.
Masha's invasion pierces the redolent country air and ruptures the peace. Played with great panache by Sigourney Weaver, she makes a number of game attempts to justify having starred in five sexy nymphomaniac serial killer movies that earned her millions. (I don't think Mr. Durang would take offense if you drew uneasy parallels to Ms. Weaver in the Alien moviefranchise.) Anyway, Masha, like the famous actress Arkadina in The Seagull, has brought along a new boyfriend half her age—the buff, brain-dead Mike (an uproarious Billy Magnussen) who struts around wearing as little as society will tolerate, to the delight of the repressed, decidedly gay Uncle Vanya, while lamenting the fact that he just lost the lead on HBO's Entourage 2. After Masha drops the bomb that she's putting the house up for sale to pay the mortgage, cherry orchard or no cherry orchard, everyone goes a little ballistic, moping, weeping, whining and wondering who will feed the blue heron. There's a girl named Nina who is visiting rich landowners next door, an obnoxious African-American housekeeper who keeps sticking pins in a voodoo doll, causing endless yelps of pain, and a disastrous costume party in which everyone dresses like Snow White and the Seven Dwarfs—except Sonia, who dons a crown and goes as "the Evil Queen as played by Maggie Smith on her way to the Oscars."
At this point, I advise you to give up trying to figure out how everyone fits into assorted productions of Chekhov and just sit back and allow Christopher Durang's Harvard-honed wit and fine sense of camp to creep over you like a parlor game, directed with economy and finesse by the brilliant Nicholas Martin. It doesn't matter how much you know about Chekhov. Just suffice it to say that everyone is full of angst and suicidal despair, especially Masha, with five failed marriages and nobody to love. "Well, I'm unhappy too," wails Sonia, whose life is empty and who, like Agnes Gooch, has never really lived. Not to mention Vanya, who is frustrated and gay and in his dotage—"and you can't be all three and smile!" They're all depressed and an awful lot of fun, including the nipple-pinching, crotch-massaging Mike, who is sad that there isn't enough of him to go around. "Why does he take his clothes off so much?" asks Vanya. "Because he can," shoots back Sonia. Everyone has a monologue that is nothing short of hilarious. (You'll find yourself using that word a lot.) David Hyde Pierce stops the show with a long, impassioned, exhausting, coma-inducing speech delivered nonstop, with few pauses to catch his breath, about the joys of the good old days—remembering Ozzie and Harriet, popcorn in the kitchen, dial phones and licking stamps, instead of Twitter, Facebook, emails and video games. The ovation following this outburst is well-deserved, leaving the audience in tears of both laughter and philosophical agreement.
In the end, the cast is bloody but unbowed. They talk about going to Moscow, but they scarcely have the strength to get to Trenton, N.J. You'll be worn out too—but exhilarated. You've only spent a weekend with these people, but you might want to spend the rest of your life with Vanya and Sonia and Masha and Spike.
More fun awaits anyone with enough energy to get through the Roundabout production of The Mystery of Edwin Drood at Studio 54. To celebrate the 200th anniversary of Charles Dickens's birth, Rupert Holmes's musical version of the author's final, unfinished novel is back, as it might have looked if had been staged in London's Music Hall Royale in 1895, and featuring alternate endings that the audience gets to choose between.
If you never saw the original 1985 Broadway production, featuring Betty Buckley as a man and a chorus that included the then-unknown Donna Murphy, you may be unfamiliar with all the gimmicks. The orphaned Edwin Drood, here played by England's leading male impersonator, Stephanie J. Block (who scored a success as Liza Minnelli in The Boy From Oz), arrives at the home of his uncle John Jasper (Will Chase) in the dreary cathedral town of Cloisterham. Drood is betrothed to lovely Rosa Bud (Betsy Wolfe), a fellow orphan with the voice of a golden angel. The villainous uncle has his own designs on Rosa, and hatches a plot to dispose of his interfering nephew. A pillar of the community, Jasper is the cathedral choirmaster and organist, but he sometimes slips away to the worst slum in London to spend lost nights in an opium den run by the depraved Princess Puffer (Chita Rivera, of all people, with a curly red wig and legs for days that can still kick like a Rockette). Drood mysteriously disappears, foul play is suspected, and every member of the cast, surrounded by dark forces and aborted clues, becomes a murder suspect, singing and dancing the night away until the plot comes to a dead end at the point where Dickens put down his pen without providing a proper ending. Like a joyous game of Clue, the rest is up to you.
The key word here is "busy." The songs are musical jabberwocky, the cast is vast and lively, spilling out into the audience and utilizing every square foot of the theater space, with everyone doubling as gravediggers, constables, vicars and damsels in various forms of distress and danger. Directed by Scott Ellis, it's a glorious mess—and it's supposed to be. There's a moving train, a full moon, a lavish but toxic dinner party, and people singing under gas streetlamps as they try to solve, resolve and conclude the mystery Dickens started and abandoned midway. Mr. Holmes, who wrote the book, music and lyrics, is a fine songwriter whose ballad "The People That You Never Get to Love" has been adopted by some of the best cabaret singers and recording artists in the business. His score here is substandard, but maybe it's just me. The songs might be better than they sound, but everyone sings them at such breakneck speed that a good 80 percent of the lyrics end up garbled, swallowed and totally undecipherable, like newspaper in a shredding machine. This is regrettable, because some big talents are on hand to please—especially the powerful Will Chase (wonderful in the recent Encores! production of Pipe Dream), jazzy Jessie Mueller (the best thing in the catastrophic revival of On a Clear Day), and the booming voice of Gregg Edelman. The songs they sing are hardly hummable, and, clocking in at two hours and 30 minutes, the show would be more fun if trimmed by at least half an hour, but never mind. Like a cross between a tent revival, a musical courtroom trial where the audience votes for the guilty verdict and a 19th-century Christmas fair, The Mystery of Edwin Drood has nothing on its mind but entertainment. God knows what Charles Dickens would think, but the audience at Studio 54 is having a spree.
rreed@observer.com