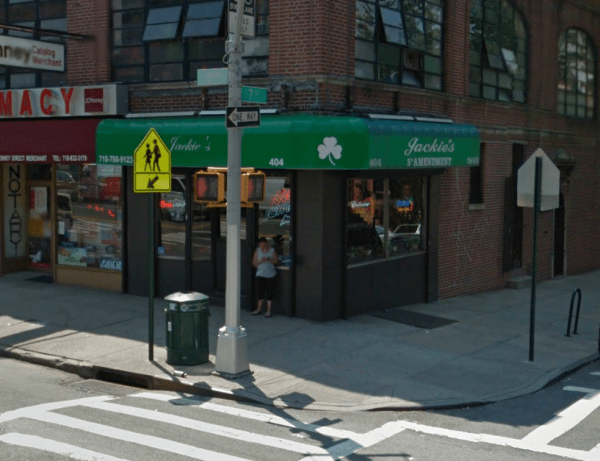 Jumping on the bandwagon, Jackie's 5th Amendment, a Park Slope Bar, has petitioned the United States government to secede from the neighborhood in which it resides.
Earlier we reported how a few misguided souls living in Mckibbin Lofts wrote a petition to secede from Williamsburg and become the "newer hipper neighborhood" of East Williamsburg. Well Jackie's 5th Amendment has taken it a step further by wanting to become a neighborhood unto itself. We're not kidding.
Jackie's petition reads as follows:
"Due to the changing nature of the neighborhood and the fact that we are beginning to take offense when potential customers come into the bar, look around them with disdain, and leave, immediately, we the people of Jackie's 5th Amendment at 404 5th Avenue request the permission of the United States Government to peacefully secede from Park Slope and become our own neighborhood, to be tentatively known as "Brooklyn.""
The petitioners list "Civil Rights and Liberties, Climate Change, Human Rights" as the relevant issues.
And … now this is officially a thing. Soon there will be heavy-haired bartenders all over New York City, even the country, petitioning President Obama to make their place of work, their work/life/studio space and their single speed into their own much trendier, "grittier" neighborhood nexus.
How will the POTUS find the time deal with such pressing requests? He must placate the self loathing denizens of New New York immediately. They can't bear to stay where they live anymore because it just doesn't have the edge that it had a decade ago (when their driver's licenses still read "Kansas").
Fuck the fiscal cliff, Obama, these hipsters need a hip replacement.
As of writing, Jackie's petition has 20 overly practiced signatures. Well, to those who signed it, we have a few issues:
1. Brooklyn is already named Brooklyn.
2. You clearly consider yourself to be, as the East Williamsburg petition brags, a "genuinely dangerous bar." Congratulations. There are never fights in our local. It's so boring.
3. You are on Fifth and Seventh. You are in the middle of Park Slope. You will forever be surround by the trustifarians you despise. Encircled by entitlement. Land locked baby-bankers. Here's a thought: Move?
4. When you walk into a "fancy" bar, what do you do? We reckon you probably look around with disdain and leave immediately. Give and take, okay?