As the last several day's headlines have been about the devastation of New Jersey–and more specifically, its shoreline–in the wake of Hurricane Sandy, it was inevitable that some cynics among us would eventually get around to making Jersey Shore jokes. For example, one very funny person tweeted on Wednesday: "Snooki is a lot like Hurricane #Sandy. They're both heading to The Jersey Shore with intentions to blow everyone within a 50 mile radius." (You can tell this person is very good and funny on Twitter because he or she got 1,346 retweets from that zinger.)

Another read: "sandy was a horrible disaster. but if u look on the bright side. no more jersey shore!!!! WAHOOOOO!!!!!!" (They probably forgot that the MTV show has actually shot its last season and therefore the hurricane that destroyed basically an entire state did not, in fact, have a "bright side.")
But while you're at home making your little nternet jokes, do you know what the cast of Jersey Shore is doing? Riding around on Jet Skis and saving stranded residents, pledging donations to relief organizations, and donating clothes to victims of Sandy.
If you've been keeping up with new mom Snooki's tweets, she and her mother were forced to evacuate their homes, along with Snooki's baby Lorenzo. And yet just yesterday she wrote:
"Cleaning out my closet today to donate clothes and whatever I can to the victims affected by Sandy. I'm coming with clothes!!!"
Today she's moved on to Instagram:

Meanwhile Roger Matthews, the fiancé of JWOWW, spent Wednesday like this: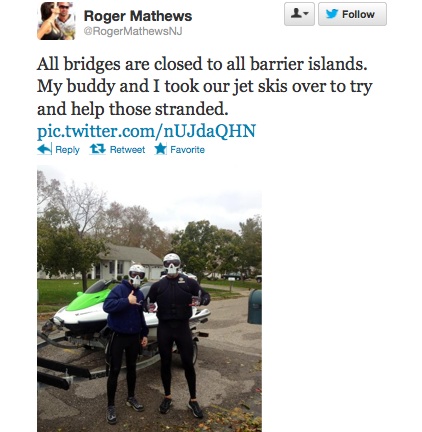 Vinny has been doing a PSA on MTV about donating to the Red Cross, which aired before last night's episode of Jersey Shore:
[protected-iframe id="bc44c7de3c09d7f834c881d127af588f-35584880-38574832″ info="http://media.mtvnservices.com/embed/mgid:uma:video:mtv.com:852932/cp~vid%3D852932%26uri%3Dmgid%3Auma%3Avideo%3Amtv.com%3A852932″ width="512″ height="288″]
Get More:
Music News
And the rest of the cast have been doing their part to parlay their middling amount of fame to help the state rebuild.
Ironically, the Seaside Heights home the cast stayed in for most of the series was unscathed by the hurricane, despite being quite literally on the Jersey Shore.