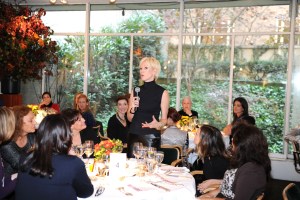 The blowouts were bouncy, the purses shiny and the ambient tone loudly girlish at Michael's on Monday afternoon. Joanna Coles, Cosmopolitan's new editrix, was hosting the "Cosmo 100," her first event as Hearst's sexpert in chief. Midtown passersby gathered round the bay window to watch "New York's most powerful and accomplished women" air kiss, pose for pictures and sip midday champagne.
"This is my first Cosmo lunch; I'm reigniting them because Helen Gurley Brown used to do them," Ms. Coles, wearing a sleek black sleeveless turtleneck and black trousers, told the Transom. As precious lunch-hour minutes ticked by, Ms. Coles herded the fun, fearless women into the dining room.
"I'm sorry if I look a bit tired. I have to be truthful, I've been up the last few nights with my biographer," Ms. Coles quipped in her opening remarks. "I would ask you to re-engage with the magazine; over the next year, I'll be making changes. You all think you are here for a free lunch, but of course you are not. I'll be hitting all of you up for ideas, your advice, your tips for younger readers."
At least among those assembled, the verdict seemed to be that Ms. Coles might spark new interest in the magazine. "I do read Cosmo now and again—not regularly, but now that Joanna is there, I probably will," actress (and Jon Hamm companion) Jennifer Westfeldt said. "She's been such a great supporter and friend, and I think she's such a wonderful lady."
"I don't have a lot of time to read magazines, but with Joanna at the helm, I think it's going to be really great and aggressive and smart and surprising," said Sarah Jessica Parker.
Rose McGowan, meanwhile, thought aloud, "I wonder how Cosmo will change, because it's totally been a slut magazine."
Ms. Coles also took the opportunity to celebrate recently elected women. During her opening remarks, she congratulated New Hampshire Governor-elect Maggie Hassan, Hawaii Representative-elect Tulsi Gabbard, New York Representative-elect Grace Meng, and Connecticut Representative-elect Elizabeth Esty, all of whom spoke during the fish course.
At the tables, however, the conversation turned less political.
"Wasn't there a Sex and the City where Carrie was wandering around Paris and she was depressed and lonely?" someone asked.
"Let's ask Sarah," someone else suggested, motioning to the next table.
"I wonder if guys even like it when you touch their perineum; I can never tell," Ms. McGowan mused. "Someone should actually ask guys that."
Ms. Coles? Are you listening?