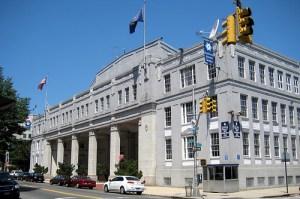 Though the city has disallowed exterior shooting until Friday at the earliest in the wake of Hurricane Sandy, at least one studio is back open. Kaufman Astoria Studios in Astoria, Queens, is planning to welcome the crews of Showtime's Nurse Jackie and Netflix's Orange is the New Black tomorrow, though the studio was open today as well.
"We're no different than any other business. And all your favorite shows will be on the air and won't miss a beat," said studio president Hal Rosenbluth, noting that the outer-borough institution did lose a couple of banners. "We weathered the storm better than I ever would have dreamt. Our building is more than 90 years old. They don't build them the way they used to!"
Mr. Rosenbluth speculated that shows would adjust their shooting schedule in order to shoot weeks' worth of interior shots at a time and pick up exteriors once the mayor's office had cleared it, noting that wiggle room was built into TV shows' schedules. "They have some room for the what-if. What if an actor gets sick?"
The studio was open today, sans the lighting crew, who were allowed to stay home given that there were no shows for them to light.
Meanwhile, NBC representatives tell The Observer that 30 Rock went back into production today, with Smash and the upcoming series Deception starting tomorrow, and Law and Order: SVU playing it by ear but still on shooting hiatus.
UPDATE, 11/1/2012: 666 Park Avenue, the New York-set show shot at Cine Magic Riverfront Studios in Williamsburg, Brooklyn, reportedly suffered damage to its sets after flooding, with the head of Cine Magic suggesting it could be three weeks before the show returns to filming. Sources connected to the show told The Observer that no date has been set or suggested internally, and that producers are still assessing the damages but that the production office is running.