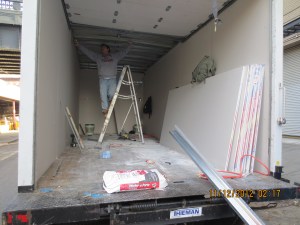 All across West Chelsea, galleries that were ravaged by Hurricane Sandy have been working the past two weeks to reopen after extensive repairs and reconstruction work. On Tuesday, ZieherSmith and Jack Shainman swung open their doors on flood-battered West 20th Street, and, a few blocks north of them, on 10th Avenue, Churner and Churner and Printed Matter were back in business after dealing with water damage.
But down on West 19th Street, which was hit particularly hard by the storm, Klemens Gasser & Tanja Grunert Inc. expects it will be two to four weeks before their landlord gives the okay on a return to their ground-floor gallery. And so they have taken matters into their own hands, or rather into their own vehicle, and opened up shop in front of the their gallery in a 20-foot-long truck.
"We have the auctions this week, so we said, 'We still have to deliver," Ms. Grunert told Gallerist by phone on Monday, referring to the big-money postwar and contemporary sales that take place through Friday at the city's main auction houses, and always attract big-league collectors to the city.
"We got the biggest truck from Courier, which is the cheapest rental company in New York, very reliable," Ms. Grunert said. They christened it Gasser Grunert3, built drywall in the cube-shaped trailer to replicate the look of an art gallery and installed an exhibition of business partner Klemens Gasser's own paintings—it's his debut at the gallery—that runs through Saturday.
When they got word from the rental company that another 20-footer was available, they decided to build a viewing room like the two they typically have in their gallery? In truck two, they plan to show works by gallery artists like Alison Fox, Paul Jacobsen, Tiffany Pollack and Blair Thurman.
"Having excavated our artwork from Hurricane Sandy's temporary use of our gallery as a water storage facility, we are reopening," the gallery wrote in a draft news release for the two new exhibition spaces. The show goes on. "Sandy, sorry, we're here," Ms. Grunert told Gallerist. "We are here."
arusseth@observer.com