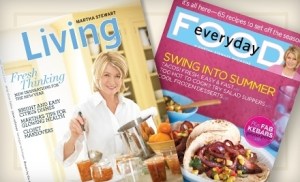 Not surprisingly, Martha Stewart Living Omnimedia's offices were closed this week–the basement flooded, there were power outages and staffers had to work from home. But the worst is far from over for the company.
The staff hasn't been able to go into work in the aftermath of the storm, but now they are now waiting at home to see if they will ever have to go in to the West Chelsea offices again. "They sent a memo saying, 'Thinking of you all [during] this demanding and difficult week,' and then they'll contact employees individually about the layoffs," a source told the Post. "Now the staff is all just sitting at home freaking out, wondering, 'Are they going to contact me?'"
Yesterday, Martha Stewart Living Omnimedia announced that it was laying off 70 employees and scaling back on two of the four magazines, The New York Times reports. "Middle market" cooking mag Everyday Living will publish five times a year instead of 10, and will become a supplement to Martha Stewart Living subscribers, rather than the standalone magazine it has been. Whole Living Magazine, a part of the Stewart empire since 2004, is on the market. If there aren't any takers by the end of the year, the mag will be folded into Martha Stewart Living.
Today, during an earnings report that was rescheduled due to the storm, the company announced the extent of its losses. "The net loss was $50.8 million, or 85 cents per share, compared with $9.7 million, or 36 cents per share, over the same period the year before," reports the Times. The company relies on revenue from publishing, broadcasting and merchandising, and the losses were largely due to the publishing unit.
Looks like living like Martha Stewart is about to get less aspirational.