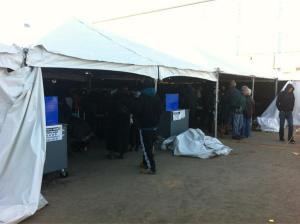 The Coney Island neighborhood of Brooklyn was among the hardest-hit areas by Hurricane Sandy last week and the storm's impact is being felt as voters head to the polls today. As a result of the hurricane damage, many of Coney Island's poll sites were changed, but according to reports on the scene, the Election Day chaos in the neighborhood sounds far worse than the planned changes.
"PS  370, which is supposed to be the 'super' Coney Isand poll site, there are areas where they don't have the books to sign in, so people have to vote via affidavit," one operative on the ground told Politicker. "Every poll site got up late. They don't even have real police officers here, they have the recruits, police academy. They have no clue what to do, they've never done it before. Every site got off late because police academy got off late to open up. One of the new sites….it's supposed to be a site, but the machines aren't there."
This account was echoed by other reports in Coney Island, and similar tales of voting issues in the Rockaways, which was also devastated by the hurricane.
For example, Councilman David Greenfield tweeted that, of the three polling sites opened in Coney Island, two were without ballots. And New York 1 anchor Roger Clark said the Lincoln High School site in the neighborhood didn't open until 40 minutes after the official start time of 6 a.m.
Yet another politico, Josh Silverstein, indicated one of four sites was open in the Rockaway area of Queens, also opened 40 minutes late. NY1 reporter Zack Fink reported the generator in the neighborhood's main site had failed, and people who lined up to vote were unable to do so. Although voting at the location is  apparently proceeding a bit more smoothly since.
Meanwhile, the Board of Elections admitted today is going to be a bumpy ride in a message posted to the agency's Twitter account a few minutes ago that said, "We appreciate your patience as we sort out what will undoubtedly be a challenging Election Day."