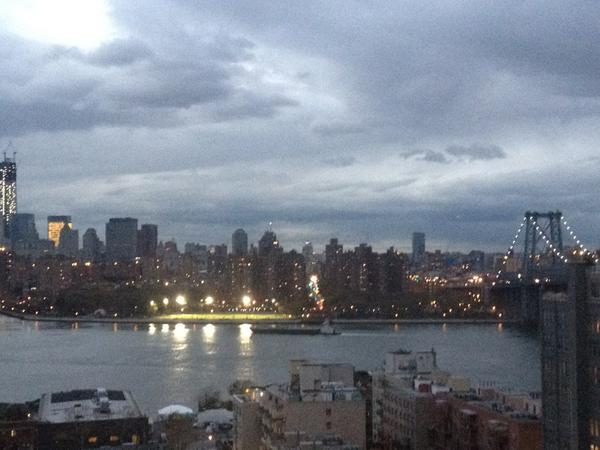 The Lower East Side is celebrating as electricity flows back to the long-darkened streets. Who knew a working traffic signal could be such a wondrous, heartwarming sign?
As soon as lights starting flickering back to life, the twittersphere exploded with celebratory messages: toilets flushing, smart phones charging, candles being joyfully extinguished. State Senator Daniel Squadron tweeted that people were cheering in the streets as power returned (and not a moment too soon as an icy autumn wind chills cheeks and fingers across the city). And Michael Bloomberg's former press chief Stu Loeser congratulated the "men and women of ConEdison" for "great work in horrible circumstances."
ConEdison reports that power has been restored to 65,000 customer and predicts restoring power to all of Manhattan by Saturday at the latest. Of course, large patches of darkness still persist in Lower Manhattan, prompting Amanda Hearst to tweet that she was "jealous." Others were at least happy for their neighbors. Amanda Miller of Amanda's Wig Shop tweeted a supportive: "get power? Not me yet, but still rejoicing!!!"
And of course, bars are suddenly declaring that they are open for business. We're sure the population will be more than happy to celebrate with a drink.
kvelsey@observer.com