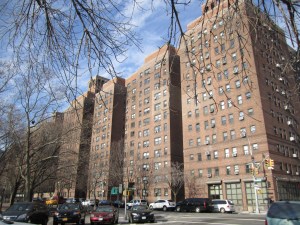 While much of Manhattan is thrumming along almost as though Sandy never happened, pockets of the borough have remained without electricity and heat. Among them: Knickerbocker Village, the 1,600-unit affordable housing complex at Monroe and Cherry streets, whose residents have become increasingly disgruntled as the cold, dark days drag on.
Today, there's some good news at least. The building management announced that by 4 p.m. power had finally been restored to the entire building. Or at least, basically the entire building. Anticipating angry calls from almost-dead cell phones, their release warned that it was conceivable "that a small handful of units might be without power" because some units may, inadvertently, have "not been plugged into the main circuit."
The fix, in such an event, they assured residents (and the growing public following their plight) would take a matter or hours, not days.
As the building is weaned off generators and back onto the ConEd grid, the management cautioned that outages may result.
The building's mechanicals and electrical circuits were destroyed by the salty water of the East River, so that even as buildings in surrounding Chinatown returned to light and warmth when ConEd restored power to the neighborhood, the complex remained dark.
Several days ago, generators arrived at the complex to help with the ongoing outages. The situation was dire enough that FEMA recommended that city find alternate living arrangements, especially for older residents. The building still lacks heat and hot water, although "virtually all units have had some heat since Wednesday evening" according to the management, and full heat is expected to be restored by Saturday. Hot water, which has been spotty and mostly during the day, is also expected to be restored by this weekend.
Additionally, lights will flicker back to life in the hallways and stairwells in the near future (residents had asked that the units be prioritized over common spaces) and 10 of the 12 elevator banks are running again.
After days of protests from tenants, management has also agreed to rent reductions: residents will not pay any rent for any days in which they did not have full essential services. Credits are being discussed as a potential way to reimburse residents.
The management and the residents have been at odds in the weeks following Sandy, particularly after residents were at first told they would need to pay November rent despite a lack of services. Residents also complained that management had been uncommunicative about repairs until very recently.
kvelsey@observer.com