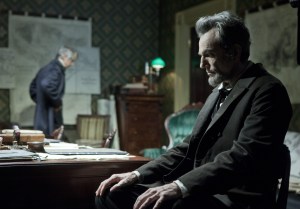 Okay. So Lincoln, Steven Spielberg's bloated $50-million history lesson about Abraham Lincoln's final days in office as he attempted, by hook or crook, to abolish slavery, is noble, civic-minded, exhaustingly researched, immaculately detailed, crowded with a parade of cameos by good actors who look like Smith Brothers cough drop models, and noteworthy for another critic-proof performance by Daniel Day-Lewis in the title role. It is all of those things. But Lincoln is also a colossal bore. It is so pedantic, slow-moving, sanitized and sentimental that I kept pinching myself to stay awake—which, like the film itself, didn't always work.
The Civil War is in its fourth year. Lincoln has already signed his famous Emancipation Proclamation, a year before his re-election to a second term. Now he wants an anti-slavery amendment to guarantee that the slaves he freed will stay that way forever, protected by law. He needs votes from a hostile, divided Congress to pass it. That means getting the support of Democrats—rabid right-wing conservatives in those days—as well as liberal, left-wing Republicans. (How times have changed!) And that's what Lincoln is about. People pining for a comfortable cinematic biopic about the controversial 16th president like those made, in the past, by Henry Fonda and Raymond Massey will be disappointed to learn that the film's interminable self-indulgence sheds no new light on the life and death of the man himself. Based on the book Team of Rivals: The Political Genius of Abraham Lincoln by historian Doris Kearns Goodwin, it boasts a dry, ponderous screenplay by long-winded playwright Tony Kushner, whose verbosity does to movies what a House filibuster does to action on a health-reform bill. It's a whopping drag.
Instead of concentrating on Lincoln and the war that divided a nation, the movie stays off the battlefield and focuses on the internecine shenanigans behind closed doors on Capitol Hill—the House debate, the ranting and shouting, the insults in both aisles of Congress, the arguments defending and denouncing blacks. Instead of action, we get intellectual ideas set forth while storming around conference tables behind the scenes of history. Ugly sets make 1600 Pennsylvania Avenue look like a rooming house. The sun never shines in 1865. Instead, garish lighting filters through dirty windows into dark rooms that look like the inside of a Hershey syrup can. Into this matte-finish gloom marches a cumbrous crowd of expensive-dress extras, most of whom Mr. Kushner never bothers to identify. Oh, look, it's Joseph Gordon-Levitt as Lincoln's oldest son Robert, a rebellious college student who defies his parents' wishes (every family has one). And there's David Strathairn as Secretary of State William Seward. Here comes John Hawkes as a lobbyist, and an unidentifiable James Spader. Who is he playing? He's gone before we get to know him. The ensemble enters through one door and exits through another: Jared Harris as General Ulysses S. Grant, and Jackie Earle Haley, Hal Holbrook, Tim Blake Nelson, Joseph Cross and a cast of hundreds playing senators, soldiers and servants. Jean Kennedy Smith, the last surviving sibling in the Kennedy dynasty, is listed in the credits as "Woman Shouter." It's that kind of movie. An endurance test with guest stars.
Upstaging them all is Tommy Lee Jones as passionate abolitionist Thaddeus Stevens, chairman of the House Ways and Means Committee, who has all the bitchy lines, and a secret black mistress to boot. He's belligerent, tortured and committed to the abolitionist cause (with personal motives that don't always extend to the country's best interests). His cantankerousness gives the film a desperately needed pinch of comedy. And there's no mistaking the valuable contribution by Sally Field, adding fire in an inspired performance as Mary Todd Lincoln, the woman behind the man. Daniel Day-Lewis does what he can to delve beneath the legend and make Lincoln an ordinary man: Lincoln telling corny jokes, Lincoln visiting the wounded in a military hospital, Lincoln talking turkey with black soldiers, Lincoln threatening his wife with the madhouse for her grief over her favorite son killed in battle, Lincoln fumbling with his hands yet writing speeches that changed history with clarity of vision. But his power is diminished by a script that forces him to explain his theory of equality by quoting Euclid on the rules of mechanical reasoning. In reality, Lincoln believed in equality under the law, but not racial equality; he had no use for blacks and maintained a strong personal belief that whites were a superior race. In his efforts to get his amendment passed, Honest Abe was not so honest either. He and his cabinet of rivals were not above bribery, lies, suspending habeas corpus or bending the Constitution to break the South's economic infrastructure. These are facts Spielberg conveniently overlooks. The title is misleading. Lincoln is about the votes, not the man. I'm more interested in the way the movie shows the terrible physical toll the passage of the 13th Amendment took on the man's life than in the disparate personalities he fought, cajoled and strong-armed in order to pass it. The movie ends on Saturday, April 15, 1865, when Mary bosses her reluctant, bone-weary husband into the carriage that takes them to Ford's Theatre. There is no mention of the name John Wilkes Booth.
In all, there's too much material, too little revelation and almost nothing of Spielberg's reliable cinematic flair. But on the plus side, there is nuance and wit, and Daniel Day-Lewis always makes you care. And you can't deny the timing of Lincoln. In a divisive election year when the Sunday morning pundits knock themselves out debating whether the political system still works, it's a good time to revisit a year when it did.
rreed@observer.com
LINCOLN
Running Time 120 minutes
Written by Tony Kushner (screenplay) and Doris Kearns Goodwin (book)
Directed by Steven Spielberg
Starring Daniel Day-Lewis, Sally Field and David Strathairn
2/4