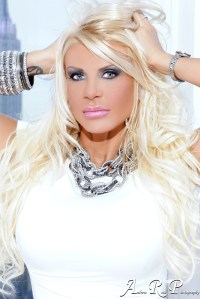 Manhattan Madam and former gubernatorial candidate Kristin Davis has a few words of wisdom for struggling starlet Lindsay Lohan: fire your lawyer.
Ms. Lohan was arrested this morning after an alleged "bender" following the negative reviews of her recent flop Liz & Dick. Police say she got into some fisticuffs with Tiffany Eve Mitchell in the VIP section of Avenue Thursday evening and collared her there and then.
Following Ms. Lohan's arrest for assault in the third degree for punching the Florida psychic in the face at the Chelsea nightclub, the redhead reportedly enlisted the help of notorious New York attorney Mark Heller.
In an open letter to Ms. Lohan, Ms. Davis claims that during her stint at Rikers during everyone's favorite Eliot Spitzer scandal, Mr. Heller committed a host of crimes against her, including but not limited to stealing thousands of dollars, turning her case into a media circus and calling her "lunch meat" in court.
"Dear Lindsay," the letter, which The Observer obtained before its release, begins.
"While we don't personally know each other, I feel compelled to inform you about your choice in attorneys, Mark Jay Heller.  If you care about your freedom- you will fire him immediately and retain competent representation,' Ms. Davis says, before mentioning that Lifetime once made a movie about her life.
 The Observer spoke to Ms. Davis about the letter and why she felt so compelled to help Ms. Lohan.
"He's a hawk. He watches the news and finds a high-profile person and says 'I'll represent you for free,'" Ms. Davis said. "I retained him prior to my arrest to turn myself in. He went out there and tried to sell my story instead of trying to keep me out of jail."
One of her most horrifying memories of her time with Mr. Heller was when he allegedly referred to her as lunch meat.
"In one of his motions to dismiss the case he wrote, 'We all know that prosecutors can indict a ham sandwich and Ms. Davis is not a piece of lunch meat.' The judge was shocked," she said.
Ms. Davis says that Mr. Heller failed to secure bail for four months, leaving her "rotting in Rikers." After giving him upward of $175,000, Ms. Davis says she fired him for incompetence. She hired a new attorney and was freed four days later.
"We're talking about her freedom. I want to do the right thing for Lindsay.  She could be looking at a year in jail at least," Ms. Davis.
Ms. Davis's complaints against Mr. Heller are not unwarranted; The New York Times ran a profile of him in 2010 in which they interviewed former clients, judges and fellow attorneys that called him a "menace to the public," "shockingly cavalier and abusive," and cited a disciplinary panel that recommended a five-year suspension for "puffery."
Earlier this year, convicted pimp Jason Itzler fired Mr. Heller at his sentencing for failing to keep him out of the pokey.
"I don't trust Heller!" Mr. Itzler shouted at the time, according to The New York Times. "Heller to me is the devil!"
Mr. Heller, whom we reached by dialing him at 1-800-LAWYER-911, took the criticism in stride.
"I became an attorney 44 years ago, and in all that time I've represented a lot of clients. Thankfully most of my clients are happy. Apparently Ms Davis is unhappy, but the allegations that she has made are inaccurate," Mr. Heller told The Observer.
He rebuffed her claim that he stole any funds from her or was dishonest in his dealings. He wasn't sure, however, if he had ever compared her to the product of a corner deli.
"It sounds like a great quote," he said. "I just don't recall saying it."
He said claims like Ms. Davis's go with "the territory," and went on to take a dig at her.
"I think there are some very serious issues concerning her credibility," he fired back.
As for Ms. Lohan, he says he and she are bosom buddies, having met in the wee hours of the morning at the 10th Precinct.
"I was contacted yesterday. I met her at the precinct. I got her released in a short time without any bail or orders of protection," he said.
He told The New York Post that Ms. Lohan was "a victim of someone trying to capture their 15 minutes of fame," but like all stories involving LiLo, there's yet another twist.
Turns out Mr. Heller may not even be Ms. Lohan's attorney after all, according to her freshly hired PR reps.
"Lindsay Lohan's attorney remains her longtime legal counsel Shawn Holley. Mr. Heller is not representing Ms. Lohan as is being reported," a member of Ms. Lohan's team told The Observer.
Another happy ending.