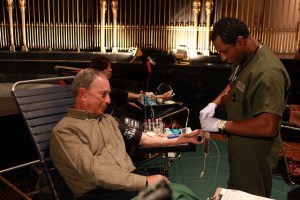 Mayor Bloomberg just announced that more than 10,000 people have donated more than $32 million to the Mayor's Fund for New York City to help with recovery efforts. There are some interesting, if unsurprising names on the list. Big Real Estate—the Rudins, the Speyers, Brookfield Properties, the Related Companies, Glenwood Management among them—were big backers, even as many of their buildings were buffeted by the storm.Lloyd Blankfein made the list, as an individual, as did his firm Goldman Sachs, which is may be smart given the ire directed at Mr. Blankfein for keeping the lights on at Goldman HQ while power was out everywhere else downtown.
There are plenty of other Wall Street outfits, like Barclays, Evercore Partners, Julian Robertson, Stan Druckenmiller and New York Life. Diane Von Ferstenberg, Ralph Lauren, the CFDA, Sketchers and Vogue all donated money (maybe some warm fur coats, too?) as did casino kingpin Steve Wynn, Ron Perelman, the Giants (but no Jets), News Corp., Microsoft, and more. You can see all the cash donors, as well as the companies, like Walmart, Pepsico, North Face, Hunter Boots, JetBlue, Sullivan Street Bakery and Jamba Juice.
Cash donors:
Allen & Company LLC, American Express, American Securities, ABNY Foundation, Gabrielle and Louis Bacon, Bank of America, Barclays, Lloyd C. Blankfein, Bloomberg Philanthropies, Brookfield, Capital One, Cher Charitable Foundation, H. Rodgin Cohen, CFDA/Council of Fashion Designers of America, Entergy Corp., Evercore Partners, Fiona and Stan Druckenmiller, Sima Ghadamian, Geller & Company, Glenwood Management, GLO Jr. Foundation, Goldman Sachs, Gotham Pixel Factory, Marc Haas Foundation, the Halvorson Family Fund, the Schlosstein Hartley Family Foundation, The Leona M. and Harry B. Helmsley Charitable Trust, Hess Corporation, Alice Hoffman and Tom Martin, ING Foundation.
J.C.C. Fund of the Japanese Chamber of Commerce and Industry of New York, Altman Kazickas Foundation, The Ralph and Ricky Lauren Family Foundation, Leon Levy Foundation, Libra Group, The Madison Square Garden Company, Marsh & McLennan, Microsoft, Jamie and David Mitchell, Mitsui, Morrison Foerster, News Corporation, New York Giants, New York Life Insurance Company, New York Road Runners, Paul Nicaj Caterers, Related Companies, Stephen Ross and the Miami Dolphins, Ronald O. Perelman.
Julian Robertson of the Robertson Foundation, Pat and John Rosenwald, Jack and Susan Rudin and the Rudin Family, Skechers, Sotheby's, Mr. and Mrs. Stephen Sherrill, Stan Shuman, Steven J. Berger, Sidney Garber Jewelers, Societe Generale, the Stiller Foundation, TD Bank Foundation, Time Warner Cable, Time Warner, Inc., Viacom, Tishman Speyer, TransCanada, Travelers Insurance, The Tribeca Film Institute, the United States Tennis Association, Vogue, Diane von Furstenberg and Diller–von Furstenberg Foundation, Stephanie and Harry Wagner and Steve Wynn.
Major water donors:
Anheuser-Busch, the Coca-Cola Company, Fairway, Gristedes, PepsiCo Foundation, and Walmart.
Other in-kind donations:
ADCO Electric, After Hours Project Inc., American Airlines, Applebees, AT&T, BJs, Bloomingdale's (including vendors North Face Jackets, Hunter Boots, Polo Hosiery-HotSox, Sam's Fine Men's clothing, 2Xist Underware, S.Rothchild Coats, Trina Turk, G-III Andrew Marc Coats, The Levy Group Coats, Herman, Kay Coats, G-III CK Coats, Idra Alta Moda Coats and Fleurette Coats), Colgate Palmolive, Costco, CVS Drug Store, Delta, Diageo, Diapers.com, Duane Reade, Dunkin' Doughnuts, Everything Entertainment, Frankie's Restaurant, Fuller & Brush, Great Performances, Holland Hook Terminal,  Home Depot, Hunts Point Market, International Orthodox Christian Charities, Inc. (IOCC), Jamba Juice, JetBlue, Lend Lease, Lowe's Companies Modell's Sporting Goods, Navillus Inc., New York Container Company, the New York Mets, New York Public Library, New York Road Runners, OTG Management, RCano Events, Savory & Sweet Bakery, ShopRite, Sprint, Staten Island Advance, Sullivan Street Bakery, Target, Teamsters, Daniel R. Tishman, Tishman Construction, an AECOM Company, Valducci's Pizza, Verizon, Visy Paper, Waldbaums, and Walmart.