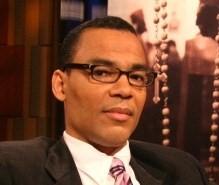 Thomas Lopez-Pierre, a Harlem activist with a controversial past who is running for term-limited Councilman Robert Jackson's seat, circulated an email late last night in an attempt to plan a "private meeting" to "discuss the potential damage to the political empowerment of the Black and Hispanic community if Mark Levine, a White/Jewish candidate was elected to the 7th Council District in 2013." This morning, Mr. Lopez-Pierre told Politicker he isn't organizing the meeting himself and is working on behalf of a larger group who became concerned when they read a report on the political blog The Perez Notes that the Upper Manhattan political machine headed by State Senator Adriano Espaillat and Councilman Ydanis Rodriguez has been working to "clear" the crowded field of candidates running for the seat to help Mr. Levine win.
"Now that he actually has a chance to win it's scaring people," said Mr. Lopez-Pierre. "So, what started first as a discussion of the blog post has now mushroomed among candidates and community leaders into basically a 'Stop Levine' campaign."
The race to replace Mr. Jackson in the 7th District is shaping up to be one of next year's most hotly-contested Council campaigns. In addition to Mr. Levine, who is a local district leader and founder of the Barack Obama Democratic Club, and Mr. Lopez-Pierre, there have been at least eight other candidates eyeing the seat. These hopefuls include local power broker and district leader Maria Luna, Socrates Solano, an aide to Congressman Charlie Rangel, Cheryl Pahaham, the outgoing vice chair of Community Board 12, and another district leader, Marisol Alcantara.
Mr. Lopez-Pierre registered to run for the seat last month. He is also running to be a district leader in the 69th Assembly District, which includes parts of the Upper West Side and Harlem. In June, Mr. Lopez-Pierre launched a political club in the district called the Douglass Grant Democratic Club. Earlier this year, Mr. Lopez-Pierre, who operates several real estate businesses in Harlem, also formed a political action committee dedicated to backing candidates who would support more charter schools in the area.
In his email announcing the meeting about Mr. Levine, Mr. Lopez-Pierre identifies himself as the chair of the Douglass Grant club and said he has spoken to "a number of Black and Hispanic candidates and Black and Hispanic community leaders" who share concerns that Mr. Levine could win without the support of the area's predominantly African-American and Latino voters because there are so many candidates running for the seat.
"The purpose of the private meeting would be to rally support behind one Black candidate and one Hispanic candidate in order to provide Black and Hispanic voters with a less confusing selection of candidates to consider," Mr. Lopez-Pierre wrote. "A number of community leaders have expressed the dire concern that with so many Black and Hispanic candidates planning to run for the 7th Council District that Mark Levine would sneak into office (like a thief in the night)."
According to his website, Mr. Lopez-Pierre is "of Puerto Rican, Dominican and Haitian descent." Despite his strongly racial rhetoric, Mr. Lopez-Pierre said he thinks Mr. Levine could be "an excellent candidate" for a number of other offices. However, he doesn't want to see a white candidate take a Council seat in a community that is predominantly made up of minorities and was previously occupied by an African-American.
"It's about progress….How can the Latino community explode in population and then we get a non-Person of Color as a Council person?" Mr. Lopez-Pierre asked. "The Black and Puerto Rican Caucus at the City Council will be negative one if something isn't done next year."
Under the current redistricting proposal for next year, the 7th Council District would be 47 percent Hispanic and 20 percent African-American. Despite the area's demographics, Mr. Lopez-Pierre said he believes the number of likely voters in the community is largely caucasian. Because of this, he said he is concerned Mr. Levine could dominate a crowded field "while blacks and Latinos are fighting among themselves." Mr. Levine, who speaks fluent Spanish, has in the past garnered considerable support in the community. In 2010, he unsuccessfully ran against Mr. Espaillat in the State Senate race to replace Eric Schneiderman and received about 39 percent of the vote.
"The reality is that white people, even if they're in black neighborhoods, do not share the same values in terms of what is important to low income black and Latino families," Mr. Lopez-Pierre said. "He cannot come and pimp–and I hope you quote me on this–he cannot come and pimp the black and Latino community to be his foundation for his political empowerment."
Mr. Lopez-Pierre's email about Mr. Levine isn't his first foray into heated email identity politics. In July, he sent another email criticizing "dumb" African-American politicians for allowing Dominican "control" of Harlem. That message wasn't the first time Mr. Lopez-Pierre stirred up controversy. Last year, he was arrested for stalking, though the case was later dismissed by a judge and the Harlem Club, a private singles club he founded in 2004 provoked the outrage of many in the community who saw it as sexist and trashy.
Mr. Lopez-Pierre told Politicker his arrest was caused by a "business partner" who "cheated" him. He said the case was "laughed" out of court by the judge. Comparing himself to the rapper and entrepreneur Jay Z, Mr. Lopez-Pierre said he believes people will not hold his controversial past against him as he increases his involvement in local politics.
"I serve an awesome god. I live in a great nation. I live in a nation where a former drug dealer can host a fundraiser for the President of the United States," Mr. Lopez-Pierre said. "Our community has embraced him and my community has embraced me over this stupid Harlem Club….This is not the stuff that black and Latino people in the hood care about. They care about education, public housing, healthcare. They care about the issues."
Mr. Lopez-Pierre declined to reveal the names of any of the other local political leaders he claims share his "concern" about Mr. Levine's candidacy because he said his conversations with them occurred "in confidence." Though he is currently standing alone in his effort, race has been an undercurrent in other recent campaigns in Upper Manhattan and Mr. Lopez-Pierre's email is an early indication one of the City's most crowded campaigns of 2013 may be even more racially charged. Mr. Lopez-Pierre said he hasn't set a date for the meeting because he wants the field for the race to be fully formed before he begins his push to whittle the hopefuls down to a single African-American and Latino candidate. When the meeting does occur, Mr. Lopez-Pierre believes he is one of the contenders who should merit consideration.
"I am one of the serious candidates," he said. "I have a history of being able to raise money from what I call bourgeois negroes, like middle class."
Update: (4:18 p.m.) We reached out to Mr. Levine who responded by talking more broadly about the nature of the district.
"The 7th Council District is incredibly diverse, one of the most diverse in the city actually, which is a wonderful thing. Whoever is going to represent the 7th in the Council has to be someone who brings people together, it can't be someone who divides us," he told Politicker this evening. "What I've done my entire life, whether it was in the nonprofit arena or progressive activism on the campaign trail, has been about bringing people together."
Additional reporting by Colin Campbell.