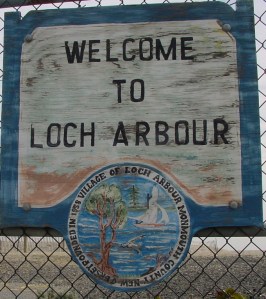 Commissioners in the tiny Monmouth County village of Loch Arbour have called a special meeting tomorrow night to discuss the legality of a nearly $700,000 severance package due the municipal clerk should the town merge with one of its neighbors.
The package was approved a year ago by the township's former board of commissioners and includes a severance payout of two weeks per year of employment – currently 46 weeks salary – a $66,000 payout for 150 days of unused sick and vacation time and lifetime health benefits for clerk Lorraine Carafa and her husband. According to Mayor Paul Fernicola, who outlined the package in a letter to residents, the deal is worth as much as $694,000.
That money is over and above the pension Carafa, who has been with Loch Arbour since 1990, will receive from the three municipal jobs she currently holds. In addition to her job in Loch Arbour, which pays her $105,000 per year, Carafa also holds part-time jobs as CFO of Sea Girt and Atlantic Highlands. All told, the three jobs pay her $167,000 per year.
According to the letter from Fernicola, on Nov. 2, 2011, the former board of commissioners went into an executive session to discuss the package before voting on the resolution in open session. The resolution was not listed on the meeting agenda.
Fernicola says the commissioners passed the resolution on Nov. 2 because they believed a new board – one that included Fernicola – would be elected six days later.
At the meeting, the commissioners will discuss the possibility of hiring outside counsel to advise them of the legality of the severance package.
"Since the Village's current attorney was also the attorney at the time that Resolution 2011-103 was adopted the current commissioners believe that it is appropriate to have a different attorney review this matter," Fernicola's said in the letter.
Reached Monday, Fernicola confirmed that he sent the letter but said he would have no further comment until after the meeting.
Reached by phone at the Loch Arbour municipal office, Carafa had no comment on the severance. Former commissioner John Zazzarino and borough attorney Stephen Foley Jr. did not immediately return calls for comment.
The village has been discussing a merger with nearby Allenhurst Township in an effort to mitigate a huge tax hit taken in 2008 when the state legislature abolished a funding agreement between Loch Arbour and Ocean Township. Until that time Loch Arbour had been paying the township of Ocean $300,000 per year to educate the approximately 25 school children that live in the village.
But with the change in the law, that number skyrocketed to over $2 million, doubling and tripling some residents' tax bills and pushing the average tax burden to the highest in the state. The village has sued to no avail.