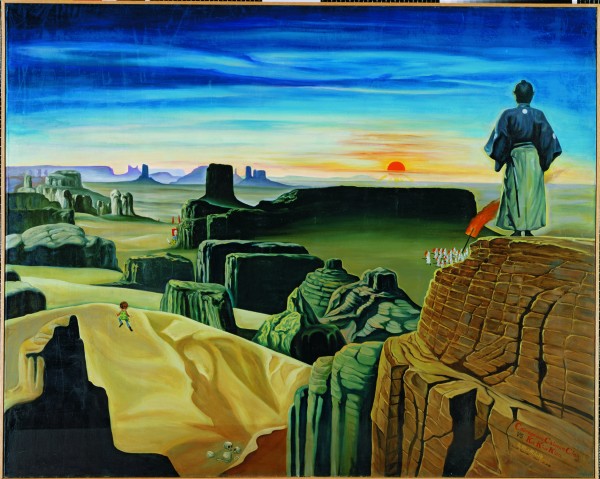 A painting depicting hundreds of Japanese schoolgirls on a commuter train. An exhibition at which visitors are fed curry rice and spaghetti. Performances critiquing the ubiquity of state surveillance. All were made in Japan in the 1960s.
In the post-WWII years, the phrase "Made in Japan" became a ubiquitous import description. During this time, Japanese artists used media like painting, film, architecture, performance, photography and design to consider the conflicts between tradition and new technologies and between the individual and the modern corporation. In a new exhibition at the Museum of Modern Art, "Tokyo 1955-1970: A New Avant-Garde," curator Doryun Chong presents some 200 pieces from that period by over 60 artists and collectives. Many of them are rare: unless you have been hanging around Japanese prefecture museums, you probably have not seen much of the work on display before. With art that is often event- or performance-based—and just as often explicitly political—the show is ultimately most pertinent not to historical Japanese issues but to contemporary ones. The strategies for provocative and playful activity on display here are ones that might be useful to any citizen today.
As the population of the capital city doubled between 1950 and 1960, the young architects who called themselves "Metabolists" dreamt up schemes to accommodate this rapid urban growth. The show's entryway features their utopian architectural plans to solve overcrowding: an unrealized project by Kenzo Tange from 1960 proposed floating a web of new houses and shops right over Tokyo Bay.
In the first room, visitors are greeted by Tatsuo Kawaguchi's sculpture Sphere in Eight Colors (1968), a low vitrine with a neat trick: the colors of four painted plaster globes appear to flicker between green, blue, yellow and red, thanks to cleverly placed mirrors. The red sphere in a white tank might represent the Japanese flag, a denatured nationalist symbol lost among multiple equally possible colors.
As the work from the late 1950s in the exhibition's first galleries makes clear, postwar Tokyo initially looked not to New York's Abstract Expressionist painting but to French Surrealism for inspiration. In "Enterprise,"(1955) one of Tatsuo Ikeda's series of pen and ink drawings of modern Tokyo, people are funneled into dismembering machines. In other drawings, company bosses resemble grotesque monsters and business is represented as a giant zipper-mouthed whale gluttonously consuming papers. Artworks like these take a bleak and satirical look at the corporate culture and the disquieting urban landscapes of the new economic era.
Some names that will probably be familiar to New Yorkers—like Yayoi Kusama, featured here with some lovely small drawings evocative of cellular forms, and On Kawara, with a large, red oil painting, Stones Thrown (1956)—are grouped here among what are called the "reportage painters," artists who combined anti-nuclear activism and Surrealism in pieces that responded to the nightmarish, traumatic effects of war. Meanwhile, Taro Okamoto's tightly framed photographs of excavated earthenware objects evoke Surrealist photography of sculpture and stage a distant, quasi-anthropological relationship between the postwar artist and Japan's past.
Two perhaps related phenomena unique to postwar Japanese art are the unusual emphasis on corporate-sponsored exhibitions and prizes and the importance of art collectives. Powerful corporations drove Japan to become the country with the world's second-highest GDP, and companies like Shell Oil, Mainichi Shimbun (a major newspaper) and the Shirokiya department store were in turn major supporters of contemporary art. Art groups with names like Gutai, Hi Red Center, Jikken Kobo and Genshoku ("Tactile Hallucination") all sprang up in the same era. Their spirit of teamwork and collaboration may have initially echoed the corporate culture of the new Japan, but ultimately it challenged that aggressive style of capitalism.
The 14 members of the Jikken Kobo ("Experimental Workshop") conducted Bauhaus-like experiments with music, lighting, composition and newly developed materials—their slide shows and short advertising films featuring new consumer products have a dreamy futuristic quality that goes hand in hand with corporate capitalism's development of the automobile. The Yomiuri newspaper sponsored an exhibition (the Yomiuri Independent) that epitomized the "anti-art" aesthetic of the 1950s and early '60s—at least until 1963, when the show was forced to announce that it would no longer accept works that involved loud, unpleasant sounds, bad smells or decomposition, or were dangerous or potentially toxic.
Gutai fans may be disappointed to find that there are no major works from that movement in the MoMA show—they will have to wait for the Guggenheim Museum's Gutai exhibition in February. But one of Shigeko Kubota's untitled drawings from 1958 gives you a sampling of his smeary style. And while the show would have benefited from the inclusion of Atsuko Tanaka's terrific lightbulb-strung Electric Dress of 1956, there is a solid showing of her colorful crayon drawings that resemble electrical circuitry.
Yoko Ono's books and Ms. Kubota's letters hint at the influence of Fluxus artist George Maciunas; New Yorkers who visited Tokyo's avant-garde scene also included John Cage, David Tudor, Merce Cunningham, Robert Rauschenberg and Jasper Johns.
Far and away the highlight of the MoMA show is the section dedicated to Hi Red Center, a Fluxus-esque collective whose style of cool political critique in the early 1960s involved numerous performances in public spaces. Let's Participate in the HRC Campaign to Promote Cleanup and Orderliness of the Metropolitan Area! (1964) involved the group's three artists, Genpei Akasegawa, Natsuyuki Nakanishi and Jiro Takamatsu, using brooms, sandpaper, toothpicks, rubbing alcohol and cotton balls to scrub Toyko's streets as a parody of the government's efforts to modernize the city in advance of the Olympic Games.
In 1963 Mr. Akasegawa started printing and distributing fake 1,000 yen bills as art; "a problem to capitalist realism," he later called his counterfeiting. His currency was confiscated by the police, and Mr. Akasegawa was embroiled in a court case over art and state control of money for the next seven years. Mr. Nakawshi took his Compact Object (1962), a polyester egg embedded with bits of bone, hair and eggshells, to the Tokyo subways as a performance: licking it as he commuted was an act of provocation aimed at the newly formed identity of a homogenous and stable Japanese worker.