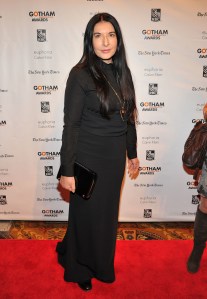 The New York Times caught up with Marina Abramovic last night at the the Gotham Independent Film Awards where The Artist Is Present, a documentary about blockbuster 2010 show at MoMA directed by Matthew Akers and Jeff Dupre, was nominated for best documentary.
It lost to How to Survive a Plague, but Ms. Abramovic is nothing if not a good quote, and The Times spoke with her about her experience at the Oscars in 2011, when her pal James Franco hosted the show with Anne Hathaway.
From the piece:
"My seats were pretty good," Ms. Abramovic said, "because Donald Trump was 10 rows behind me, so I thought, pretty good seats! But the most fun for me at Oscars was the doubles" — she was referring to the seat fillers — "because the moment you going to the bathroom, they come, the guys who look exactly like you. The toilets of Oscars are big fun. The toilets, definitely! And the fillers, and all this kind of insanity together."
Read the whole thing here.