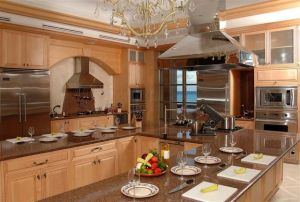 Now that foodie culture and the attendant obsession with culinary arcana has become as central to the haute-bourgeois life as private school and master bedroom suites, the kitchen is taking over the house, The Wall Street Journal reports.
Where once there were serviceable stoves and ho-hum microwaves, wine bottle racks and a few good countertops, these days wealthy homeowners are demanding restaurant-quality entertaining spaces with refrigeration rooms, wet bars, islands that double as dinner party seating for 10, fireplaces, flat-screen TVs and multiple seating areas with plush and, one hopes, stain proof furniture.
The only thing many of these awe-inspiring cooking spaces aren't used for on the regular is, well, cooking. The Journal reports that while ersatz chefs enjoy having their friends watch them julienne and flambe with professional competence, spinning around to fetch another perfectly paired bottle from their 250-bottle wine "cellars," they don't want things to be messy or smelly. That's why there's often a smaller room for actual cooking and cleaning to be done, in many cases, by someone else.
Among the huge, flat-screen TV'd, sofa-filled monster kitchens profiled in The Journal are a 5,000-square-foot kitchen in Beverly Hills that includes seating for 16 and opens onto the garden and a 700-square foot kitchen in Illinois converted from an oversize two-car garage that includes, among other things an office alcove.
Another in Miami Beach involves a stunning show kitchen with a "prep" kitchen downstairs where the staff works, ferrying the foods up in a dumbwaiter. At the same time, these growing temples to food and food preparation are often underused, housing mostly prepared foods purchased by busy working professionals, who can't find the time to use many of the professional grade appliances besides the refrigerator and the microwave. The only mega-kitchens being put to good use, it seems, are the ones whose owners can afford both the space and a chef to go in it.
kvelsey@observer.com