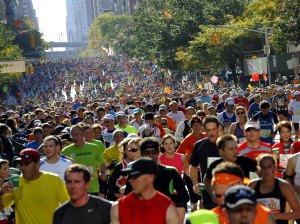 Mayor Bloomberg has announced the decision to cancel the New York City Marathon this year in light of the devastation caused by Hurricane Sandy. The mayor's office announced the decision in a statement a few minutes ago.
"The Marathon has been an integral part of New York City's life for 40 years and is an event tens of thousands of New Yorkers participate in and millions more watch. While holding the race would not require diverting resources from the recovery effort, it is clear that it has become the source of controversy and division," the statement said. "The marathon has always brought our city together and inspired us with stories of courage and determination. We would not want a cloud to hang over the race or its participants, and so we have decided to cancel it."
In his statement, the mayor did not give any information about whether the race will be rescheduled. It said the New York Road Runners, which hosts the event will have  more information sometime soon.
"We cannot allow a controversy over an athletic event–even one as meaningful as this–to distract attention away from all the critically important work that is being done to recover from the storm and get our city back on track," the mayor said. "The New York Road Runners will have additional information in the days ahead for participants."
A growing number of elected officials and even anonymous race employees were calling for the race to be cancelled due to the storm because it could distract vital emergency workers and use other important resources needed for the recovery effort. Prior to this statement, the mayor said he did not believe the race would cause any issues and would in fact benefit the city at this difficult time.