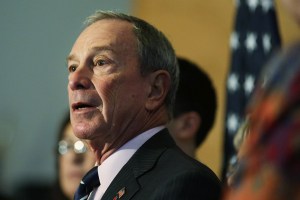 Earlier today, Mayor Michael Bloomberg formally petitioned the federal government for billions of dollars in financial assistance to help cover the costs incurred from the fatal winds and storm surge that came with Hurricane Sandy last month. However, when he was asked about the request at the end of an unrelated press conference today, Mr. Bloomberg sounded skeptical that he'd get what he asked for.
"I'm always optimistic," he said this afternoon. "I always believe that we're going to win. I still think we're going to get that stadium on the West Side. I still think that we're going to get the 2012 Olympics. I'm always an optimist and never give in."
Of course, Mr. Bloomberg was joking about the two proposals his administration unsuccessfully campaigned for. This year's Olympics went to London the West Side Stadium plans were scuttled years ago.
Other elected officials also sounded concerned with how much federal aid will ultimately arrive.
"Make no mistake, this will not be an easy task, particularly given the impending fiscal cliff, and a Congress that has been much less friendly to disaster relief than in the past," Senator Chuck Schumer said in a statement. "We will work with the Administration on supplemental legislation, to be introduced in the upcoming December session of Congress, that will set us on the road to meeting New York's needs. This will be an effort that lasts not weeks, but many months, and we will not rest until the federal response meets New York's deep and extensive needs."