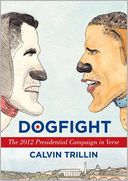 New York Times book reviewer Michiko Kakutani uses Calvin Trillin's signature style of rhyming verse about current events to review the author's new book, Dogfight, A Presidential Race in Verse. The result?
It does sound a lot like Mr. Trillin:
Calvin Trillin composes poetry on deadline,
Drawing inspiration straight from a headline.
He likes to send up politicians in verse,
Chronicling follies that get worse and worse.
But the difficulty comes when Ms. Kakutani tries to be critical of the book. Her choice of form is a charmingly cute way to write about  a charmingly cute stocking stuffer of a book, but it invites the inevitable comparison between reviewer and author.
This book lacks a certain je ne sais quoi
Some Trillin rhymes are unnecessarily blah.
But we've got to hand it to Ms. Kakutani. Writing criticism in verse is hard. Just ask Mr. Trillin.
Poet Trillin has chronicled it all in this book,
Which you can read on paper, Kindle or Nook.
While he's no Steve Sondheim, and has penned better books,
Rhyming on deadline isn't as easy as it looks