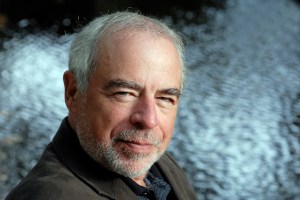 If "Jonathan" is shorthand for youngish white men of letters—Safran Foer, Franzen, Lethem, maybe Ames—"Richard" feels like its late-middle-age equivalent. Russo, Ford, Price, maybe Bausch: you're browsing for a Father's Day present, and the names conjure a fuzzy blur of teaching positions, screenwriting credits and possible altercations with Colson Whitehead.
Mr. Russo earned his Richard credentials with sturdy works of everyman realism like 2002's Pulitzer-winning Empire Falls. And while readers might know what they're in for when they pick up one of his novels—Northeastern small towns, marital malaise, a dash of slapstick—his first book of nonfiction is a step outside familiar territory, executed with less practiced skill and more uncomfortable complexity. A memoir, Elsewhere (Knopf, 256 pp., $25.95) finds Mr. Russo struggling to understand his mother. This doesn't make for a good yarn or a tidy structure. Instead, the book offers a quietly riveting portrait of Jean Russo, who does not appear to have been an easy woman to understand or like—or ignore.
The necessary backdrop for that portrait is Gloversville, Mr. Russo's hometown in Upstate New York, which bears obvious similarities to the landscapes of his novels. Gloversville once produced 90 percent of the gloves sold in the U.S., and the author's postwar childhood coincided with its final days of prosperity. As a boy, he found its downtown too crowded to navigate by himself. When he graduated from high school, "you could have strafed Main Street with an automatic weapon without endangering a soul."
Elsewhere depicts the tenacious grip that Gloversville exerted on mother and son alike: while her circumstances trapped her there, his success drew him back creatively—much to her bafflement. "She was deeply mystified," Mr. Russo writes, "by how many people apparently wanted to read stories set in the kind of industrial backwaters from which she'd worked so hard to escape." Endowed with a terrible sense of direction, Jean Russo was "a compass whose needle pointed due south," according to one family joke—but, Mr. Russo later writes, "her hatred of Gloversville was like the North Star." She didn't know where she was going; she just knew that she wanted to leave.
Escape required independence, a quality she defended fiercely against daunting odds. Separated from Mr. Russo's father (an unreliable gambler), she lived throughout her son's childhood in a second-floor apartment above her parents' home. Rather than work in the town's glove trade, she commuted to an office job at General Electric in nearby Schenectady, paying for the carpool gas, and presenting her parents with a rent check on the first of each month. Broadening her son's horizons "beyond the smug, complacent, self-satisfied, dimwitted ethos of the ugly little mill town" involved an unyielding code of conduct. She disapproved of untidy clothes, off-brand soda and anyone willing to content themselves with such day-to-day indignities. For example, Mr. Russo writes, she disdained what she regarded as the "slatternly, dumpy women who did shift work in Gloversville sweatshops":
For them my mother felt pity that sometimes manifested itself as condescension, though she at least gave such women points for getting out of the house. She saved her real contempt for 'homemakers' … They had nothing that the world needed, or nothing, at least, that it was willing to pay a living wage for. If you were a woman who'd never held a responsible job, if you didn't bring home your own paycheck at the end of the week and deposit it into an account with your own name on it, you had no right to criticize or interfere in the lives of those who did. Indeed, you had no opinions worth listening to.
Her attitude blends "stubborn confidence and acute anxiety"—an intense and uneasy combination. She identified, Mr. Russo writes, with Scarlett O'Hara. Her favorite scene in Gone With the Wind was when Scarlett made a gown out of the curtains.
As that suggests—and as Mr. Russo, growing up, soon realizes—there's an element of fantasy in his mother's hard-won self-image. She considers GE a model employer but earns less than her male colleagues; she carefully distances herself from her parents, but needs their help when times get tough.
Most persistently and painfully, she depends on her son. The heart of Elsewhere is the tightly knotted bond between mother and child, and its evolution from his childhood through her old age. "She'd never really considered us two separate people but rather one entity," Mr. Russo writes. Hence the paradoxical lament of her later years: "If anything ever happened to you," she tells him, "I'd have to say good-bye to my independence."
By that time, she's lived for years in a series of subsidized apartments near her son's family as he pursues an academic career and writes. (She scorns the notion of "assisted living"; still, Mr. Russo's family never leaves town "for longer than it took her milk to spoil.") Their interdependence, however, was established long before that. In 1967, as Mr. Russo prepared to leave for college, she announced that she'd come with him: while he studied at the University of Arizona in Tucson, she'd work at GE in Phoenix. So mother and son set out for points west in an ineffectual Ford Galaxie, a harrowing cross-country journey that marks a decidedly anti-Kerouac-ian addition to the road-trip canon. She learned to drive in two weeks because the Southwestern sprawl gave her no choice.
But despite such moments of mid-century liberation, Jean Russo isn't an easy-to-root-for feminist heroine. For one thing, she shared her world's low opinion of female abilities. Despite her own pride in her work, Mr. Russo writes, "if there were two lines at the bank or the post office, she'd invariably queue up at the man's, even if the woman's was shorter." As an old woman, she lectures her politely unreceptive granddaughters on proper gender roles in marriage.
And as Mr. Russo grows into adulthood, he begins to recognize the instability that accompanies his mother's volatile plans and unshakeable opinions. Her "condition," he writes, was semi-acknowledged within the family, but only as a little old-fashioned hysteria: "One word, 'nerves,' was evidently deemed sufficient to describe, categorize, stigmatize, and dismiss it." The pathology begins in earnest after his father nonchalantly informs the college-age author that his mother is "nuts." It's disorienting for the reader, as it surely was for Mr. Russo. Yet over the course of Elsewhere, Russo comes to variously describe her as "unglued," "unhinged," "unraveled," "unmoored." We see her experiencing "manic" episodes, her thoughts growing "barbed and dangerous," and learn of her obsessive concerns about contamination, her visceral aversion to all odors and to the color yellow. Ultimately Mr. Russo wonders about a posthumous diagnosis when his own adult daughter is treated for OCD.
The blurbs selected for Mr. Russo's book covers tend to praise his fiction for its "affection," "generosity," and "compassion." This would seem to refer to his sympathetic depiction of characters who blunder around while remaining stuck in place. Often those characters are wackily irascible or affably bumbling (his protagonists), or long-suffering and saintly (their wives). His mother fits none of these categories, and so writing about her with compassion must have been more challenging. Praising an author as "generous" suggests a benevolent deity—but in considering his own messy intimacy with his mother, Mr. Russo operates on a more modest scale.
At each of the homes his mother moves into and out of, he packs and unpacks her paperback library, a collection of mysteries and historical romances whose cohesive sensibility impresses her English Ph.D. son. His mother made him a reader, he writes, and her taste shaped the writer he eventually became—"one who, unlike many university trained writers, didn't consider plot a dirty word, who paid attention to audience and pacing, who had little tolerance for literary pretension." More importantly, though, her hunger for a world beyond the one she inhabited had emerged for her son (by "blind dumb luck") as a career. "The same qualities that over a lifetime had contracted my mother's world," he writes, "had somehow expanded mine."
Unhappily but relentlessly, she taught him to "muster that tough imagining."
editorial@observer.com