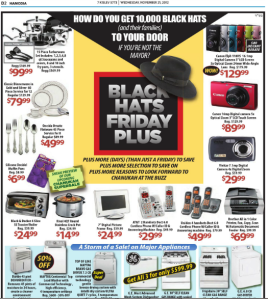 It looks like at least one store has seized upon Mayor Michael Bloomberg's "black hats" controversy in a capitalistic manner. "How do you get 10,000 black hats (and their families) to your door if you're not the mayor?" a full page ad in today's Hamodia asked. The answer, apparently, is their "Black Hats Friday" sale.
Headline of the Day: "Andrew Cuomo Catches Flak From the Left, and Couldn't Be Happier About It"
Former Mayor Rudy Giuliani backed MTA Chairman Joe Lhota for mayor, should he actually run. "If Joe were to get into this race, the mayor would be an enthusiastic supporter," the former mayor's political adviser said. "The mayor would do anything he could to help Joe get elected if Joe decided to be a candidate.
With talk of a special session dying down, that could very well mean that the September 2013 primary date will happen after all. You know, the one that Board of Elections Commissioner J.C. Polanco once called a "practical and legal impossibility." Should be fun.
This op-ed by Senator Jeff Klein, the leader of the breakaway IDC faction of Democrats, is mysterious. "For the four of us, bipartisanship is not a matter of political expedience. It is a matter of principle, rooted in the reality of the changing times. It is becoming increasingly clear, both at home and in Washington, that we are at a political tipping point," Mr. Klein wrote. "For that reason, coalition government may be the model whose time has finally come." As he went out of his way to tout his progressive positions in the piece, it's possible he's shoring up his left flank in the face of expected upcoming criticism, but it's difficult to say for sure.
Attorney David Grandeau, speaking to his ethical complaint against Comptroller Tom DiNapoli, didn't exactly mince words on Capital Tonight last night:
"JCOPE has one charge, and that's to be the regulator of ethics and integrity in New York State public officials. Unfortunately, I think this is a perfect example of the ethical Chernobyl that's occurring here in Albany. JCOPE's the regulator and they're not watching what's going on at Chernobyl. and we're going to end up with meltdown after meltdown if they don't."