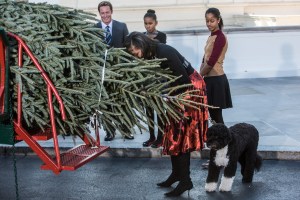 After praising mayoral candidate Bill Thompson the week before, Assemblyman Dov Hikind heaped accolades on one of Mr. Thompson's electoral rivals, Public Advocate Bill de Blasio Saturday night. "You're a doer, that's what I love about you," Mr. Hikind said. "That's why when we first met and you ran for the City Council, I said, 'This is the guy we want.'"
The New York Times looked at the mayoral field and asked, literally, "Where are the Jews?"
After initially being accused of bypassing New York's congressional delegation, Governor Andrew Cuomo will now sit down with them to discuss the billions of dollars in federal aid he's seeking for the state.
The Daily News conducted an extensive point-by-point analysis of all of Mr. Cuomo's mistakes and possible faux-pas after the storm. One interesting nugget:
"Cuomo also has made just three joint appearances with Bloomberg since the storm hit, though he and the mayor insist they are working very closely. A source with close ties to Cuomo said a key reason for the split media briefings is that Cuomo remembers how he believed then-Gov. George Pataki played second fiddle to Mayor Giuliani at their joint events after the 9/11 attacks."
Newly-minted City Council candidate Rory Lancman, who stepped into the public eye over workplace safety issues in the State Assembly, is hoping to do so again for recovery workers in the wake of Hurricane Sandy.
While Councilman Dan Garodnick, running for comptroller, called for a moratorium on Sandy-related evictions.