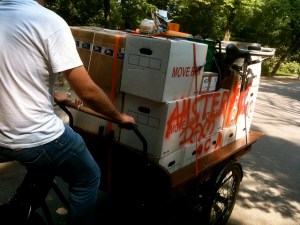 Joanne Russo felt a sense of panic when she awoke on October 29 to a rain-soaked, wind-battered city and reports that the worst was yet to come. It wasn't the storm anxiety causing hearts to race around the city—Ms. Russo and her roommate were scheduled to move that morning. Their lease was up on October 31st and their landlord had been unpleasantly insistent that they clear out early. The couple who were moving into their apartment had left their place the week before and were living in a temporary unit downstairs. Ms. Russo felt that she couldn't stay until after the hurricane, but she wasn't sure if she could leave either.
"The last thing we wanted was to get stuck," said Ms. Russo. "We were afraid the movers would bail on us and then we wouldn't be able to leave for days."
She was relieved when Imperial Moving called at 8 a.m. to say that they would be there in an hour. As businesses shut down and traffic vanished, the movers emptied the women's two-bedroom on East 31st Street and carted their belongings to their new sixth-floor apartment at 20th Street and First Avenue. They finished shortly before the electricity went out and the elevator shuddered to a stop. Ms. Russo knows she was lucky, even if she and her roommate can only unpack in the daylight, hauling the empty boxes down the darkened stairwell.
"When my phone service finally came back I had a text message from my landlord asking, 'Did you vacate yet?'" Ms. Russo said. "I'm so glad we're not still in the old apartment. I'd be filled with anxiety about when we'd be able to move."
Calling it a rough week barely begins to describe New York after Hurricane Sandy. People's homes are flooded, burned down, blown away, gone. That some people were inconvenienced in their moving plans seems minor in the grand scheme of things, but it is also a reminder of how a disaster like this effects us all in so many ways. It is also a reminder that life will return to normal at some point, maybe even some point soon. This is is a town of renters, millions of them, with many thousands of leases coming due the same day a hurricane was bearing down on the city.
It would have been bad enough to be one of the unlucky renters who would be missing Halloween because their leases expired on October 31, but not any more. Relocation plans have been delayed as renters wait for electricity to return, elevators to run and similarly-stuck tenants to clear out of the apartments that they inked a November 1 lease for.
Downtown, buildings and stairwells remain dark and keys difficult to retrieve from shuttered management companies. Movers have postponed countless appointments because of gas shortages and workers stranded in the outer boroughs. Many landlords have been understanding, but even the most accommodating are anxious to see tenants who stopped paying rent on Halloween depart.
"The logistics are a nightmare," said Citi Habitats president Gary Malin, whose firm oversees more rental listings than any other brokerage in the city. "We have people who signed leases and can't move out, people who signed leases and can't move in, people whose movers have rescheduled, people who are in hotels. We've been getting calls from clients who want to know if their rent will be pro-rated. Everyone's in limbo. It's a stalled system."
Citi Habitats broker Shannon Aalai has spent the last few days trying to negotiate between owners, management companies and stranded tenants.
"It's very frustrating," Ms. Aalai told The Observer. "People were calling me in the middle of the storm asking what would happen with their leases and move-in dates. People need to move, they need to get out, their leases are up."
Ms. Aalai said that she'd recently received a call from the owner of a luxury condo at the Gramercy Stark asking if his tenant was going to move in on November 1st. And if not, would she still be paying rent starting on the first?
"The apartment has no heat, no hot water and no elevator," said Ms. Aalai. "It's only the fifth floor and it's furnished, but the renter still has stuff, and she'd need to carry it up five flights of stairs."
As for the would-be tenant, she was staying in a hotel uptown, with her belongings in a friend's Gold Street apartment, very much disinclined to shuttle her possessions from one cold, dark apartment to the next.