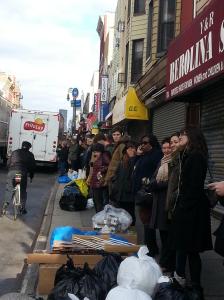 The people of North Brooklyn can be an entitled bunch (as a local, this reporter can personally testify to this). After all, the lights, even the Internet stayed on through most of the storm, and property damage was minimal, even for those condos cum punching bags on the waterfront. Still, standing outside in the freezing cold while one packed B62 after another blows by your stop is not a very comforting feeling. Forget getting to work, what about the hypothermia concerns the mayor has been preaching?
But fear not, now that the MTA has gotten to all the other subway lines—which to be totally fair had less flooding and/or carried more riders into the city—the L and the G are now its primary recovery focus, according to MTA spokesman Adam Lisberg.
"The MTA is very much aware of the difficult commute for our customers who usually take the G and L trains, as well as the crowding at the Marcy Avenue station," Mr. Lisberg said in an email. "Getting the G and L running again is our highest priority, and crews are working around the clock on both."
Part of the reason it may still be a few days before service returns is because the damage in the flooded lines remains unknown. "Pumping the water from those flooded tunnels is only the first step," Mr. Lisberg said. "Signals must be fixed or replaced and then tested, among other restorations, before we can safely start service again. We know this is an inconvenience for our customers in the affected neighborhoods, and the entire agency is focused on getting those lines running again."
He also said  that the logistics of setting up shuttles for these lines is complicated even when the system is not hamstrung as it currently is, and it would only carry a fraction of the passengers the trains could. And by the time the shuttle is up and running, the trains could be back in some capacity, so better to wait for that, though the agency continues to explore all options to restore service as quickly as possible.
For those in Greenpoint and Williamsburg, The Observer has hit upon at least one possible route into Manhattan that bypasses the B62, which is currently suffering from long lines and overcrowding. Take the B43 to the last stop at Box Street, walk over the Pulaski Bridge, and catch the No. 7 at Vernon/Jackson. You may have to wade through crowds there, too, but at least you'll be inside.