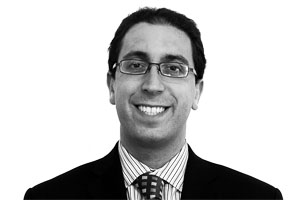 Speaking of Times suspensions, @NYTOnIt, a parody Twitter account that mocks Times trend stories, went offline last week after being cited by the social network for the use of the signature Times font "T"—topped with a jaunty beret—as the feed's avatar.
The Times's take-down request came from its legal department, and was not—it appears—a symptom of a humorless newsroom. Indeed, Times sources told Off the Record that many staffers enjoyed the feed and were (usually) flattered to find their own stories brought up for gentle mockery.The man behind said mockery is Benjamin Kabak, a lawyer at Bortstein Legal Group by day who specializes in technology and commercial real estate. (He also pens Second Avenue Sagas, a blog about the subway construction on the Upper East Side.)
Mr. Kabak told OTR that he heard from Twitter management rather than the Times, and although he was fairly confident, as a lawyer, that he could have won a trademark tussle, he wasn't in the mood to duke it out with the paper of record. Mr. Kabak took down the avatar so he could bravely continue calling out the Times on its trends. He also held a contest to decide on a new avatar.
But one benefit of a legal threat is publicity. Mr. Kabak gained 6,000 followers in less than a week. And so, he will continue tweeting. "Because," as it says in the account's Twitter bio, "sometimes stories in newspapers are just that obvious."